Rule of Krishna Rajendra Wodeyar IV
Krishna Rajendra IV (Rule 1902-1940)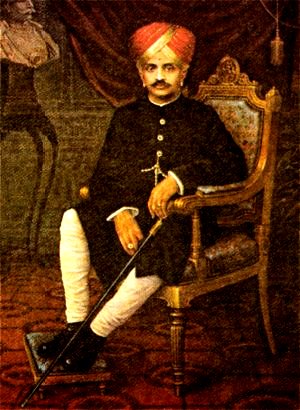 Known as one of the most enlightened kings of the erstwhile British India, Krishnaraj Wodeyar was responsible for many reforms in the former State of Mysore. His kingdom forged ahead in the field of education, industry, fine arts, and set an example to hundreds of rulers of other states, big and small, throughout India.
The "Mysore Economic Conference" was formed in 1916 which established the Mysore University in the same year. Encouragement for Kannada language, and imparting education through Kannada at all levels was the main aim of the institution (till then the youngsters aspiring for higher education had to go to Madras.)
In 1909 Sir M. Vishweshwariah (MV) became Chief Engineer of the State and gave final shape to Kannambadi Dam which turned the Mandya-Mysore region into an evergreen land. It was named "Krishnaraja Sagar". In 1912 as Diwan of Mysore, MV ensured that the State achieved success on all fronts. Bhadravati Steel and Iron works, Mysore Sandal-oil and soap factory were established, and Leather tanning and wood distillation and silk factories were encouraged.
Kannada Sahitya Parishat (1915), the mother institution of all Kannada literary activities is a product of this period.
Women's education got adequate attention. Female students were given free education till high school and charged 1/2 fee till the professional courses like medince were completed. Primary education was made mandatory.
Government polytechnics and engineering colleges were started. Maharaja's Railways connected all the 9 districts. In fact correspondence with British was on to get Bhatkal port for commercial output and export. Later Sir Mirza Ismail continued all the policies and added many more schemes (gardens, factories) of Diwan MV.
Gandhiji called the king as Rajarshi (Royal Sage). Great connisseur of music, he patronized many great musicians of the time.