Rajasthan Revisited: December 2004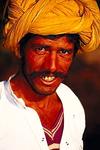 When my writer-friend Damayanti suggested that we take a tour to Rajasthan for a change and recharging this winter, my response was cool initially. But later I agreed as I wanted to have a second look at the romantic land, which was also a "land of honeymoon" for me, literally.
Soon after our marriage, Kamat and I settled down in Jobner-Jaipur area in Rajasthan. Our son Vikas was born in Jaipur. My father Baba (Ganesh Burde) named him 'Jai Raj Vikas Singh', a typical name of Rajputs, to remember Jaipur.
I was very happy to visit Rajasthan after almost 40 years of gap,and I could see that Rajasthan is really progressing. Earlier (1960s), life was hard in Jobner. There was acute water shortage. There was only one well of water, which was brought in a drum on a bullock cart and sold in cans (kerosene tins) from house to house. Each can of water used to cost 15 paise. For Kamats from the land of streams, rivers and sea, purchasing water was quite an experience. Our Rajasthani neighbours watched with amazement our extravagance of consuming 20-25 cans of water a day; they could manage with a can or two!
But it was an old story; forty year old story. Now there is a sea change in that desert state. There was no water scarcity at all in the eight places we visited: Mount Abu, Jaisalmer, Jodhpur, Pushkar, Bikaner, Ajmer, Jaipur and Udaipur.
Jaisalmer situated in Thar Desert, has now water in plenty. There is greenery instead of thorny shrubs. The Indira Gandhi Canal has changed the desert landscape. Hotels are spic and span, toilets are clean with flush-out taps. Running water is available twenty-four hours of the day! This could be a dream earlier. There are parks, fields and fountains at many places.
The roads are wide, straight and clean. We used to be on the road for more than eight hours a day but did not feel tired because of the good roads and smooth driving. Windmills on hills provided power and electricity at many places.
People at large, have retained their pleasing rustic customs. Huge colorful turbans, variety of ear ornaments and big mustaches are sported by men. Bright coloured Ghagra-Odnis and jingling ornaments are worn by women, who worked hard in the fields.
Cities are bustling. They are a shoppers' paradise with various handicrafts, colored garments, metallic magic and what not. The Rajasthani cities are not choked like Bangalore.
There are more schools and colleges. There is marked change among city dwellers in attire and transport. Western fashions are seeping in, and there are more and more three wheelers and four-wheelers. Gone are the Tongas (Horse carriages) which were abundant four decades ago. The camel-cart, comman transport in desert has only remained as tourist attraction. Times have changed!
With numerous foreign and domestic tourists, Rajasthan has showed how tourism could be built into a fine industry by providing tourist amenities. There were folksingers, puppeetters, and danceres everywhere. I felt sorry for my own state of Karnataka, which has high potential for tourism development and numerous tourist spots but still lags behind because of bad roads and very unhygienic conditions in hotels.
I left the land of Royal Glory that is Rajasthan, wondering which is the more developed state - Rajasthan or Karnataka...
(Karnataka due to its prominent technology industry base, is considered by many as a highly developed state. - Ed.)