Nose Ornaments of India

Many reader of www.kamat.com have asked me about the significance of nose piercing and wearing studs or rings in the nose.

Well, one thing is common to Indian women, they are extremely fond of ornaments! They are capable of displaying innumerable ornaments from hands, shoulders, fingers, waist, ankles, and feet (toes). Hair, ear, and nose are no exception. On the ears, lobes, upper lips, and inner parts are also pierced to sport dainty jewels. Hence the ear itself has three ornaments at times linked by a light chain.

© K. L. Kamat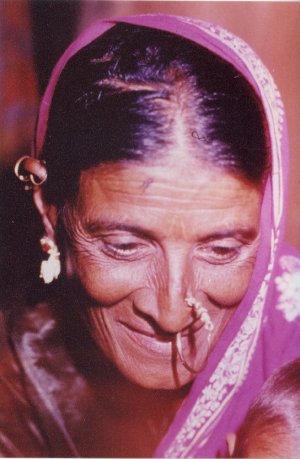 Nose ornaments are not native to India. There is no mention of nose ornaments in Vedic literature or other sacred texts. Ancient sculptures do not depict it. Neither is it mentioned in Amarkosh, the ancient lexicograph nor in Bharata's Natyashastra, which lists several ornaments.
Most probably nose piercing is of African origin, and has traveled to India, along with the Muslim conquests. Ibn Batuta the great globetrotter from Tangiers, was in India between 1336-1346 AD. As a guest of ruler of Honavar, he had noticed nose-rings worn by Muslim girls who were very beautiful. The region was inhabited by Moors or Arabs who were traders they were known as Navayats, much earlier to the advent of Islam. Indians were known quickly to adopt quickly any foreign custom, advantageous to them. In no time, nose ornaments became immensely popular and received shape and significance of each caste and community. Diamonds and precious stones set in gold were worn on right, left or middle of the nostrils. Natth (or Nattu in Kannada) is a big nose ornament. Muguthi is a jewel studded smaller ornament. It is mentioned in several Kannada classics.
Natth became part of trousseau of married women. If the nose ornament fell or was lost it was considered a bad omen. In certain communities, widows give up nose rings along with other embellishments.
City bred girls of my generation, were saved the pain of nose piercing. But the practice was and still is prevalent in the rural subcontinent because auspiciousness is associated with it.