Prime Source of Fables: The Panchatantra

Readers all over the world are familiar with Aesop's fables wherein different animals are depicted as having human traits. But it is not known that Panchatantra or collection of Indian fables and parables is the primary source for Aesop's fables. Over centuries, children have relished these short stories with moral lessons. Some orientalists have established that stories form the Panchatantra are found in several languages and are next only to the Bible in popularity.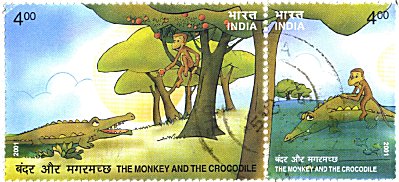 Indian Stamp depicting a Panchatantra Fable
In Sanskrit the word "Panch" stands for the numeral five and 'Tantra' indicates several different meanings like discipline, technology, scheme, system, philosophy etc. Here it is taken as serial or book. Panchatantra deals with moral stories in five parts. The book is ascribed to Vishnusharma, a learned Brahmin. There was a king in the southern region of India, who had three sons who refused to be educated and were good for nothing. The frustrated father approached Vishnusharma who agreed to motivate them in learning. He chose the universal medium of story telling. In short time he was successful in teaching them lessons in political science and diplomacy through fables, science of polity was the most important subject of study for future kings and administrators in ancient times.
Panchatantra mentions Chanakya or Kautilya in the beginning itself, hence it's a later work. The Persian king Khusru Anoshervan, who ruled between 531 to 571 A.D., got the Sanskrit classis Panchatantra translated into Pahlavi language. A Syrian version followed and Arab translation came up in 750 AD. Very soon, local versions appered in lands of Indian cultural conquests, like Java, Laos, Cambodia, Thailand etc.
Original Panchatantra or collection of five books in Sanskrit is not available today, and scholars have strived hard for more than one and half a century to establish the authenticity of authorship and one complete anthology.