A Rare Guru - Prof. G.S. Dikshit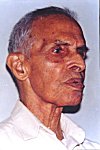 In the Indian tradition, guru is God himself. In ancient times, the guru personified wisdom, learning and scholarship. These could be attained only through long-standing perseverance, penance and endless hardships. Such a preceptor selflessly imparted education to all, who deserved it. Hence a student could obtain guidance of such a teacher.
I was lucky enough to get such a guru in modern times. Dr. Giri Shridhar Dikshit provided me not only with Vidya (knowledge), but guidance and consolation when I needed it most. He was my guru for a life-time.
I am blessed to write a tribute to Prof. G.S. Dikshit on the occasion of his first death anniversary.