Art of Madhubani

The Madhubani art of painting with hands was earlier restricted to wall paintings of their huts by women of Mithila and Madhuban in the state of Bihar. This art form has been refreshingly revived these days. It has extended to paper and fabric and reaches art lovers easily. It also depicts love of ordinary village folk towards the environment and their resourcefulness in depicting it.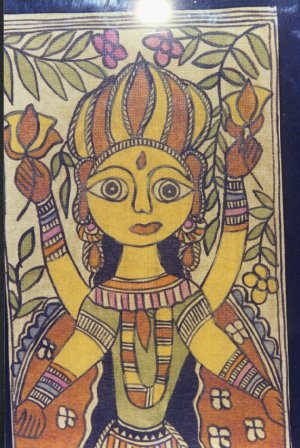 Everything in Madhubani art is hand-made, including the paper. A yellowish tinge is given to this with a thin layer of cowdung. Besides colour, it gives thickenss to the paper. Red colour comes from the stones and bricks. Yellow from flowers. Brown from peepal tree. Green from seem plant and black from burning cloth on a lamp. Gum from the trees is used to give lustre. Brushes are made from sharpened bamboo, cotton, matchsticks, broomsticks form other apparatus!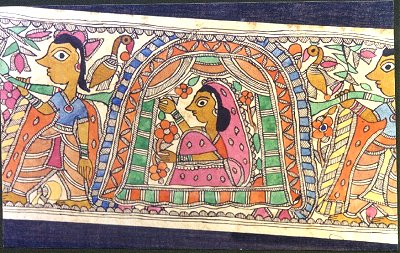 Godhna and Maithili (place names; Maithili comes from Mithila in Bihar) styles distinguish this folk-art. Black colour predominated over white chunam plastered base, in Godhna style. It started with tattoing among tribals and working class. Motifs are similar as in tattos. Deities with their symbols, flowers, plants, animals,like elephants, tigers, birds, and fish dominate. Mithila style is more elaborate and the canvas opted is bigger. Godhna has fine and smaller strokes of painting.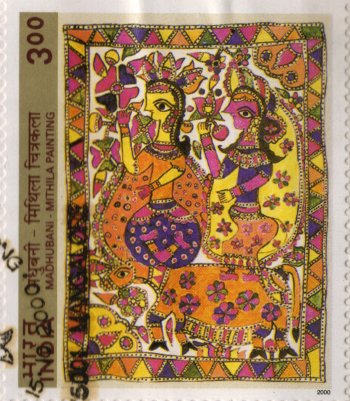 Most of these painters are illiterate in the mordern sense because they cannot read or write. But their sense of color is extraordinary, and hold over brushes, masterly.
This folk-art has now turned fashionable, and is receiving good attention. Picturecards and fabric paintings are in good demand at exhibitions.

See Also:
• Expressions of Women in Indian Art