K.V.Subbanna (1932-2005)

Shri K.V.Subbanna who passed away on July 15th 2005, possessed rare genius in creating art-awareness among rural folk and organizing theatrical activities at village level. In the age when all artistic activities are urban, and concentrated among the elite, Subbana established Neenasam a theatrical organization built entirely by community effort,  in Heggodu, a small village in Sagar Taluk of Shimoga District in Karnataka. But Neenasam (Neelakantheswara Nataka Sangha) appeared on world map due to its incessant activities in reviving traditional and folk theatre, publishing old and forgotten plays and skits, translating world classics and enacting, putting out performances by itinerant group, in remotest towns in Karnataka and arranging workshops and seminars on theater from time to time.

Heggodu buzzed with activity throughout the year. Subbanna ran a school of drama and arranged refresher courses in histrionics . Neenasam productions were eagerly awaited by theatre lovers. Every time there was something special and new, which Subbanna tried to present. He was successful. He rebuilt folk-theatre and produced long-forgotten Sanskrit plays as well.

This relentless and incessant work of three decades  brought him Magsaysay award, Padmabhushan and Central Sahitya and Nataka Academy awards, but he remained a very humble and simple activist till the end.

He was besides a prolific writer and a very well known publisher. His Akshara Prakashana brought out rare volumes of literary criticism, translations of world classics, reminiscences of artists etc in Kannada. A special mention must be made of  complete translation of Bharata's Natyashastra, a first century Sanskrit work on dramatics by Shriranga, another great name in Kannnada drama. He brought out a quarterly  "Sakshi", edited by distinguished Kannada poet Gopala Krishna Adiga. He trapped in, many well known Kannada writers and critics in contributing to this journal.

His adoration of community spirit of Indians is matchless. He had great faith in our democracy. He felt that all the great elections held in India, since Independence indicated that people of the country showed the maturity of the voters.

In the last public lecture he delivered (his public lectures were rare), at the Institute for Social and Economic change on 26th November 2004, which I attended, he acknowledged that whatever he has learnt in his life is only through the community and community is his sole Guru.

He also expressed apprehensions at the ugly political developments wherein a coterie of so called technology experts, industrialists and greedy politicians is blockading the participation of the commoners (community) in the developmental process of the country. Subbanna was a family friend of the Kamats. He encouraged my husband to write the travelogue on Rajasthan and published it. Several articles by Bappa and myself appeared in his journal 'Sakshi'. He tracked originality and creativity and tried to boost young writers, as much as possible.

His only son K.V. Akshara, is an already established director in amateur theatre and has directed several novel plays.

K.V. Subbanna Photo Album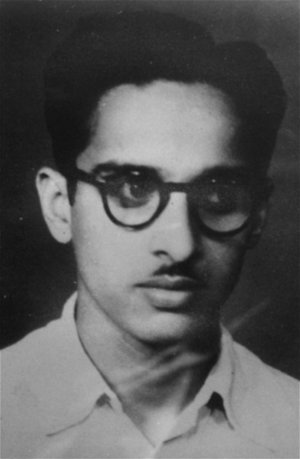 A Very Old Photograph of Subbanna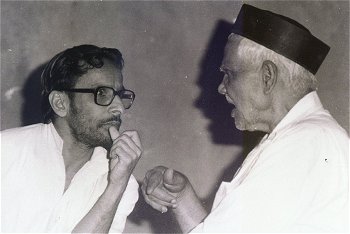 Subbanna with G.B. Joshi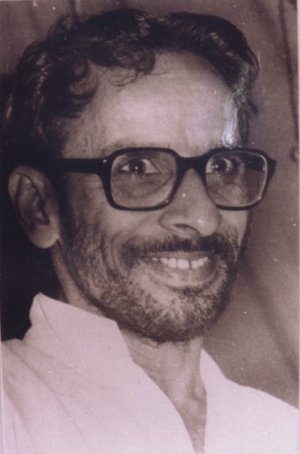 Portrait of a Genius