Boswellian Mallya

James Boswell is known for immortalizing life and achievement of Samuel Johnson(1709-1784). the great lexicographer writer and English poet. Boswell spared no pains to present the personality and works of Johnson by noting down anecdotes and events of Johnson's life assiduously and left an unparalleled biographical record for posterity.

Malini Mallya has done a similar splendid job regarding Dr. Shivaram Karanth, the titan of Kannada literature. Only difference is that Malini had more than two decades to work with Karanth and to complete the tremendous task of collecting hundreds and hundreds of articles,notes,letters besides long forgotten short stories Karanth wrote for more than seven decades in periodicals.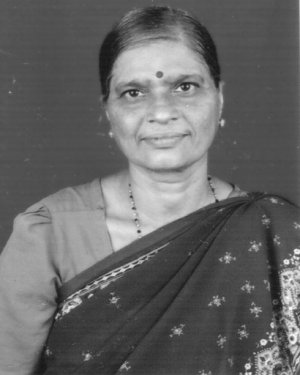 Malini Mallya (b.1951)
Malini was in her twenties and unemployed when she met Dr Karanth to assist in his work. He was then in his mid-seventies. But his writing was incessant. "There were many youngsters who came to work as my office assistants throughout my writing career. But it was only Malini, who took interest in my activities and imbibed some of my intellectual pursuits" wrote Karanth in his famous autobiography- titled "Ten faces of a crazy mind"(Huchchu Manasina Hattu Mukhagalu), her first article on Karanth at once received attention and admiration of scholars and readers alike. A biography of Karanth followed (Nanu kanda Karantharu) "Karanth as I saw him" which brought out intimate, unknown traits of the great writer. Malini has good literary flair, which she used to bring out the Literary Giant's output and personality in the most systematic way.
In 1992 she brought out a comprehensive volume of Bibliography of Karanth's writings, enriched by the line-drawings of the famous artist, K.K. Hebbar, which again made news. It was first of its kind. She collected more than a thousand articles and letters of Karanth and compiled them in eight subject-wise volumes. These volumes are published by Mangalore University.
Karanth himself was stunned at the 'sea' of his stray writings of seventy years when the aforesaid bibliography of his compiled works,(Shivarama Karanthara Kriti-Kaipidy) followed.
An exhaustive research work on the theatrical and Yakshagana experiments of Karanth from the year 1921, till his last days, was brought out. Two volumes on Karanth's recent writings in a weekly for children came out.'Karanth Uvacha' is a book on Karanth's epigrams and quotes- appearing in his fifty works. Finally, came a volume of 1500 letters Karanth wrote, which was published by Mangalore University titled 'Patravyavahara mattu Nanu'. She also edited and published Karanth's last book on birds and updated children's encyclopedia he wrote almost seventy years ago. Presently Malini is helping in bringing out complete works of Shivarama Karanth, an undertaking of Goverment of Karnataka.
Malini, an employee of Life Insurance Corporation of India lives in Saligrama (Udupi), Karanth's work-place of decades. Her life-time dedication to bring out to light Karanth's unparalleled literary out-put has given her fulfilment.'Karantha-Kainkarya', (service to Karanth) a phrase coined by herself could be her logo! She is also an honorary curator, of Dr Kota Shivaram Karanth Museum of Saligrama, and secretary for Research and study Center Trust.