An Old Photo and a Story

Yesterday, I visited the ancestral home of my sister-in-law, Pushpa Prabhu and her husband Prabhakar. This house is more then ninety years old. I was drawn to an old photograph of Prabhakar's parents in a huge frame. I am fond of such old photographs which always tell an old and interesting story. Prabhakar, whom we address as Bhavaji, brought a similar and older unframed picture of his grandmother who was perhaps seventy year old when the photograph was taken. To me, it represented Konkani-womanhood of bygone days and the saga of sorrow and happiness a widow could have undergone in a house-hold which she might have ruled at least for a few years.

Nusserwanji/Kamat's Potpourri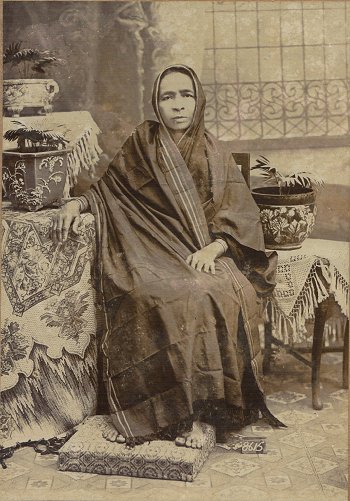 This picture might have been taken in 1920. Radhabai Padmanabh Prabhu was her full name. She was tonsured as soon as she lost her husband as was the custom. Then followed the austere life of one meal a day, keeping away from all gaiety and celebrations and spending most time in meditation and reading religious scriptures.
That was the plight of a brahmin widow, till about sixty years ago. But emancipation of women came with struggle for independence. There were several women freedom fighters, widows (at times tonsured) who went to jail with men during non-cooperation movement. Gandhiji's leadership provided to diminish gender-bias in no small measure.
The lady in the picture has fully covered herself in a red (customary color for widows) saree. The fact that she went to the studio to be photographed was itself a great event. She has thick gold bangles on both wrists. They form part of her stridhan (women's money) brought as dowry during her wedding. She would have worn it till the end. It would then pass on to her daughters.
Her sons and daughters must have coaxed her to proceed to the studio for this photograph, so that a copy could be preserved by them, fondly even after death.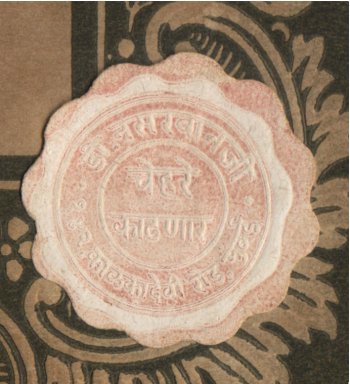 The seal of the studio, faded reads in Devanagari reads. Nusserwanji (the owner and the photographer) and the name of the studio is "Chehare" (nuances of face). Address of studio is Kalkadevi Road, Mumbai.
Radhabai's rare visit to Mumbai, from small town Kumta, has thus preserved for posterity through this picture.


If you liked this entry, you'll also like The Dead Tiger Photograph and the story it tells.