Anmoree: Dame Who Delivered a Thousand Babies

It was raining on the night of 29th September 1934. Midnight was approaching. Young Laxman Vasudev Kamat was pacing the corridor of the inner court of his joint family home restlessly in the town of Honavar. He and his wife Ramabai Kamat were expecting their third child. Laxman was nervous not just because the first two kids were girls. His wife was short and of delicate build. The arriving child was reported to be healthy and large. He was anxious about his wife's condition.

Suddenly there was moan, suppressed scream, and commotion in the delivery room which was at a distance. Lo! Howl of new born! and the waiting father heaved a sigh of relief, and slowly went near delivery room.

The door of the delivery room slightly opened. "Hello! Kamat Sir! A little Kamat has arrived!" said an excited female voice and the door was shut. She knew the importance of a male child in a business family. The newborn Kamat later became my husband.

© K. L. Kamat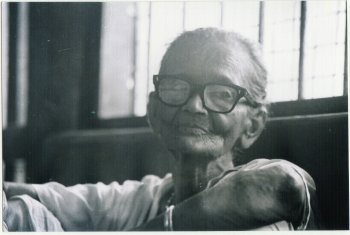 It was Anmoree (Local version of Anne Mary), the village midwife who conveyed the happy news. In those days, public medical care in Honavar was unknown. A qualified gynecologist or trained nurses were unheard of. Anmoree, who learnt the tricks of the trade from her mother, was most in demand. Continuous practice and careful handling made her popular, though she never had any training in her vocation. A devout Roman Catholic, she thought it always a sacred duty, to help women in distress. Which occasion is more needy than that of human birth? She was most loved and respected by mothers of all caste and creed. She was a house-hold name in Honavar and round about villages. And the fee she charged? It was nothing. A coconut and little quantity of rice. That was all. Cash payment was not known. At times, the grateful parents honored her with a blouse piece or sari.
She stood by difficult times and claimed that there was no mishandling of single case in her experience. But times were hard, many women died during difficult delivery due to lack of simple medical aid and mostly due to unhygienic conditions.
© K. L. Kamat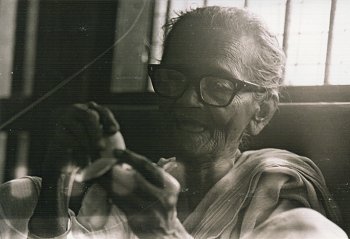 Anmoree managed home-deliveries of Kamat family from early 1930s to late 1970s. Many of Bappa's nephews and nieces were brought to this world by Anmoree's loving hands, more or less in a similar way.
But conditions have changed now. The government hospital has well qualified doctors and more than half a dozen private hospitals and nursing homes have come up in Honavar itself.
Anmoree almost became a legend. If a youngster was found lazy lying down and restlessly turning sides, the elder used to say "What is wrong with you? Shall I send for Anmoree?"
Anmoree led a peaceful and contended and most importantly, a very useful life till the end. K.L.Kamat's clicking in 1980s helped preserving her image for posterity. Perhaps she was never photographed again, or before.

See Also:
How Green Was My Valley -- Relive the life in India before the Internet, television, cars, or telephones.