Vinayak Rao Chikkermane (1878-1983)

When we were school- going kids, my father was transferred to Gokarn. Gokarn is an ancient town in North Kanara Distrct. Being associated with Rama and Rawana, it is one of the holiest places for Hindus, where all sacred rituals are performed.

© K. L. Kamat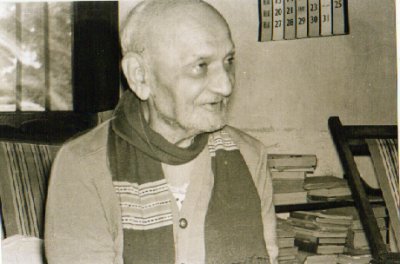 Vinayak Rao Chikkermane (1878-1983)
In those days, we used to spend all holidays on the Gokarn Beach, spotlessly clean, with glistening sand and frolicsome waves. A tall, slim, old man in his eighties, who tucked his dhoti as breeches and carried a walking stick used to walk by everyday. He walked straight and always looked cheerful. Greeted now and then by locals, he used to walk about eight miles everyday.
He was Vinayak Rao M. Chikkermane. He served as a postal official in British India. He was transferred to Aden which was under the British. he was excommunicated for crossing the sea, by the Swamiji of Chitrapur Math to which Vinayakmam belonged. Crossing the sea was prohibited to 'high caste' Brahmins and the person who committed this sin was shunned by members of his community and all social transactions were forbidden with him,once excommunication was declared.
Mr. Vinayaka Rao who was also a great Sanskrit scholar, knew that our ancient tradition never stood for such narrow social code. But he accepted the punishment. A stickler for rules, he went to Aden, finished his term and came back. the Old Swamiji had passed away by this time. The new Swamiji, Anandashram by name was a very open minded Guru, who later came to be respected as one of the most enlightened pontiffs.
Vinayakmam who had retired long back, lead a quiet life in Gokarn and spent most of is time in the company of books. He knew many classical Sanskrit Kavyas by heart. He knew Vedic sanskrit as well. He used to teach Sanskrit to any youngster who approched him. His granddaughter Manorama was my classmate. I remember having studied Sanskrit under his guidance during summerholidays along with other friends. But in those days, the green hillocks with berries and beach with dancing waves were more attractive than Sanskrit lessons!
He sent a letter of blessing when I got married, wherein he quoted a Vedic mantra. It is a welcome address to the new bride, by the father-in-law. He pleads her to rule the house as a queen (samrajni), naming all the members of the family. Vinayakmam also mentioned that position of women being high in our ancient society. "We must interpret our social rituals and customs from that angle only, when a man and woman had to perform all ceremonies together." he'd written.
We had a brief visit to his place in 1967. Vinayakmam was reading a book on Yajurveda. His study was full of books. Kamat's camera, as always, was ready at hand, and clicked Vinayakmam who was in his ninties then. My husband Kamat was very much impressed by this mordern sage, whose image he has made available to all of us. Gokarn, an ancient place of pilgrimage is rendered holier because of such quiet and unassuming scholars, he'd felt.
Vinayakmam lived upto 105 years. On his hundredth birthday, Kamat sent enlargement of one of his snaps. He called him- 'Great Grand Guru of Gokarn'. Vinayakmam sent a reply in his shaky handwriting. The mantle later along with the title fell on Dr. Gourish Kaikini, a literary giant of Gokarn and of Karnataka.