Gandhi in Bangalore - II

Gandhiji visited Bangalore five times. Bangalore was then an important city under the Maharaja of Mysore. His third visit was the longest (20-4-1927 to 30-8-1927) for 87 days. Previous to this, he spent 45 days at Nandi Hills on doctor's recommendation. This hill station in nearby Bangalore. The place where he stayed in Bangalore was Kumara Krupa guest house, which buzzed with activity due to visiting national leaders, social workers, volunteers, organizers and nationalists beside congress men. This caused lot of uneasiness to British Government. Maharaja's government provided all amenities including medical aid to Gandhi. He had comfortable stay. Gandhi was very ill due to over-strain, and his personal physician felt it may end in stroke. This compelled Gandhiji's followers to coax him to have a long holiday. .

Gandhi arrived in Bangalore on 20th of April 1927 from Mumbai. It was his prayer time when alighted from train at Yashwantpur Railway station. Being a stickler to time, arrangements were made for community prayer on the railway-platform itself. For him it was good enough to offer prayers. His followers and on lookers also joined. See picture below:

Vishwa Karnataka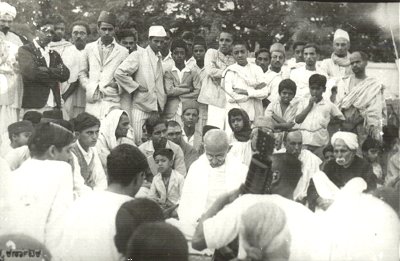 Shri Vemagal Somashekhar who wrote the book in Kannada on "Gandhiji in Bangalore" has received a prize of Jayashree Trust, instituted by H.V. Srinivasaiah, himself a Gandhian and well known writer. The prize will be given on 2nd October, Gandhi Jayanti day.
Somashekhar's book contains interesting anecdotes besides Gandhiji's day-today schedule after his recovery. Coffee was available at all time at the temporary kitchen installed at Kumara Krupa. Rajaji was fond of coffee and wanted a sip now and then. All members except Gandhiji used to have taste of famous coffee of the region (Coorg).
All Karnataka Hindi conference was organized on 10-7-1927, as also women's conference under the presidentship of Kasturba. Mrs. Umabai Kundapur's speech in Hindi was quite inspiring. Gandhiji and others leaders who were present were glad to listen to her. Umabai declared that next women's conference would be organized in North Karnataka.
Bapuji's sojourn was the longest (outside ashram) anywhere in India. This period witnessed the budding love between Gandhiji's youngest son Devdas Gandhi (27) and Rajaji's daughter Laxmi (15), who had accompanied their parents. But due to Gandhiji's strictures, the pair had to wait for 5 long years to get married. This Bania-Brahmin marriage though austerely simple, was a national event because of the distinguished parents on either side.

See Also: Gandhi in Bangalore