Cows and Goa

Early history of Goa is fascinating. The word 'Goa' has derived from 'Gow' or cow. All the ancient names of the place, like Goparashtra, Gorashtra, Gopakapuri or Gopakapattana lead to one origin. i.e. Gow or Go in Sanskrit. One is tempted to deduce that early settlers of this region must have been cow herds or pastoral race, coming from Saraswati valley in Punjab then to Gujarat and finally Goa.

Goa is homeland of icons of various incarnations of Vishnu or Krishna, Damodara, Devaki-Krishna, Narasimha and others. Numerically strong, originally Goan Konkani Brahmins are known as dorakes. They claim to hail from Dwaraka in Gujarat where Lord Krishna is said to have lived and ruled.

Importance of cow in Indian ethos can never be ignored. Superstitious beliefs regarding holiness of panchagavya (mixture of five ingredients connected with cow viz milk curd, ghee, urine and dung) are rampant. This mixture is purificatory; it is antiseptic, its regular dosage helps in atonements and its lapping cleanses a sinner etc are some of the folk beliefs that plague Indian society.

Frederick Naronha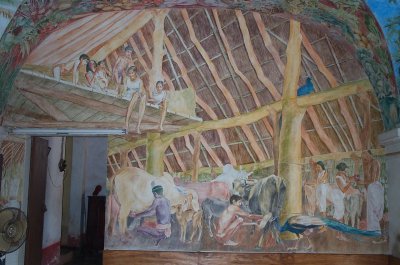 At a Milk Dairy
Detail from a wall painting in Goa
Some worship cow as god. Feeding a cow (gogras) is considered sacred duty. Indian culture to a good extant is cow based only. Important Ayurvedic medicines are cow - ghee based. We aught to know. Cow dung is used as natural plaster for mud walls and mud - flooring in village houses. Cow dung cakes make inexpensive and easy fuel. Being agricultural country where bullocks are harnessed for ploughing even in 21st century, importance of cattle in Indian society is any body's guess.
Shri Krishna, the beloved god of millions and millions in India is invariably associated with cows. He is Gopal (cow herd). He is Govind (protector of cows). He is Govardhan (Begetter of cows) and Govardhan giridhar or simply Giridhar, who protected his community of cowherds against the incessantly pouring rains by holding the Govardhan Mountain like a giant umbrella (umbrage).
Kamat's Potpourri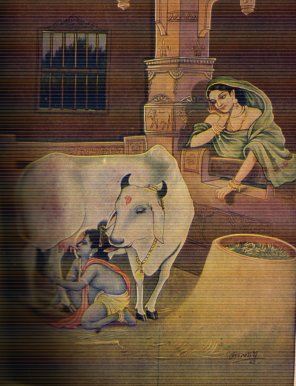 Krishna Drinks Milk from a Cow
Detail from an Indian Painting, circa 1940
Gopal or Balagopal (child cow herd) has provided inspiration to sculptors and painters as well as poets over ages. All the leading schools of Indian painting, Basholi Pahadi, Rajastani, Tanjore, Mysore traditional etc. all depict Krishna's attachment to cows.
Old and modern Indian poetry stands witness to inexhaustible nuances of Krishna's love towards "go" (cow) or gopi (cow herdess).

See Also:
• Goa in Pictures