Simhamukha, Kirtimuka or the Face of Glory

Every Hindu temple has the face of lion at the apex entrance carved artistically. This lion-face appears at the top of the door, niche, and windows as well. The countenances of man and lion are fused and it is also know as Simhamuka or Simhalalata. It is supposed to lead worshippers to Supreme Reality.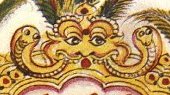 The Lion-face (Simhamuka) has the attributes of a dragon or serpent, equivalent of Chinese Ta'o-Ti'eh the devourer. In English church-architecture, it resembles the "Green Man".
Simhamuka usually indicates Rahu (eclipse). One of the nine planets, Rahu stands for a devourer. There is a Puranic story. During the fight between gods and demons for nectar or Amrita, Rahu, the demon, tried to get a sip of drink of immortality, stealthily. But he was caught in the nick of time by the Sun and the Moon and Lord Vishnu was informed instantly. He cut off Rahu's head. But the head became immortal, having tasted a drop of nectar. Rahu now tried to swallow Sun and Moon when they passed near him. During eclipses (grahana), this scene is repeated according to believers.
Rahu is son of Simhika or the lioness. She symbolizes destruction. Incarnation of Narasimha has this concept behind it.
According to another Shaiva legend, Narasimha had become very proud, after killing Hiranya kashipu. This Hiranya kashipu was brother of Simhika, Rahu's mother. Shiva killed Narasimha and out of the severed head he made Kirtimukha or face of glory which represented mask of gods.
Rahu and Vastu are brothers. Vastu is laid to rest at the base of a temple. In fact, he represents its plan. Rahu's head is fixed at the pinnacle or Shikhara. In between are images.
Usually this head in an arch stands for Purusha or Supreme spirit and the arch represents Prakriti or nature.
Rahu, the Lion-face rules over destiny of humans and brings good or evil.
The earliest carving of Kirtimuka or Simhamukha is noticed in the stupa at Amaravati (2nd century C.E.)
Dancers of Combodia use Kirtimuka as headdress. Artifacts and any worship-worthy idols or mandaps carry this symbol.
From commoner's point of view, it might be indicating just a sign to ward off "evil eye" (scare-crow) for anything good or sacred.

See Also:
• India's Subtle Sub-cultures