The Alupas via Coins and Customs

Two young, amateur scholars from South Kanara have made a rare landmark in their field of hobby of collecting antiquities. Govindraya S. Prabhu is an engineer by vocation, and M. Nithyanand Pai is a businessman. Their hobby is collection of coins and ancient artifacts.

Recently I had an opportunity to meet with Mr. Pai at his residence in the town of Karkala and found his collection mind-boggling.

© Vikas Kamat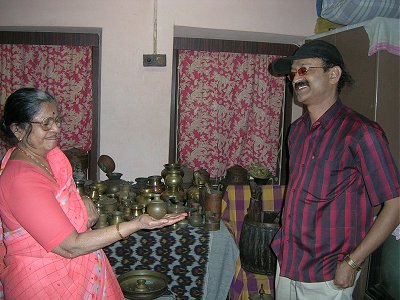 Antique Collections of Nithyanand Pai
Jyotsna Kamat(on left) and Nityanand Pai(right)

Together, Nityanand and Govindraya have brought out a book on coinage and history of Alupas. While the Alupas were but a minor dynasty who ruled coastal Karnataka, they have a unique record of ruling for more than a thousand years!
Coin Collections of Nithyanand Pai
In the absence of written history, numismatics forms an important source for the study of Indian history, along with inscriptions (see: Sources of History). It was a general practice with reigning dynasties to mint coins on special occasions.
The Prabhu-Pai duo have spared no pains to collect coins -- golden, silver, copper and lead coins belonging to different Alupa kings and different centuries. When titles are common and symbols of divine animals are common, it becomes all the more difficult to identify the ruler. They have evolved their own method to sort out and identify hundreds of coins they have collected over the years. There are forty neatly arranged plates in the book. There is helpful bibliography and a detailed index. Sketches of coins - obverse and reverse are quite educative.
It is a remarkable history book throwing light on a most surviving ancient dynasty of Karnataka, and a glowing chapter in subaltern history.
Details of the Book:
THE ALUPAS - COINAGE AND HISTORY.
Reesha Books International
Govindraya Prabhu.S. and Nithyanand.Pai.M.

Link to: Govindraya Prabhu's Page which contains many rare coins and historical facts.