Schooling of Shivaram Karanth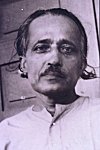 Dr. Shivaram Karanth (1902-1997), a great among Kannada writers has left a vivid description of his early schooling in his famous autobiography in Kannada, titled "Hucchu manassina Hattumukhagalu" (Ten faces of a Crazy Mind).
Having extensively studied the ancient system of education in Karnataka, I could see in his accounts, a happy blend of old traditional and new (British) systems in the first decades of twentieth century. The British system for India came into effect by the middle of the nineteenth century in cities and towns. But in rural areas native system continued. There were Aigala Mathas in South Kanara district, where reading, writing and arithmetic were taught along with Yakshagana.
Karanth studied in a newly established government primary school. Children were taught alphabets on the spread of sand with fingers. Later slate and chalk were used. Finally, palm-leaves and kanta (see a picture of kanta) were given. All of these were inexpensive materials. Classes were held in temple-premises, again an age-old custom in India. Corporal punishment was very common. Karanth's child-hood memory consists of his teacher Ranga Rao carrying a long stick all the time, and liberally using it on the backs and palms of youngsters.
The open yard in the middle of the temple (used for sacrificial purposes) was inhabited by owls, bats, wild doves and cats. Roving Bavajis (monks, fakirs and other ascetics) frequently came and brought with them pet-monkeys to the great amusements of kids.
Later Karanth attended the school run by the Taluka board. There were sixty boys and three teachers. For the first time, the children had the luxury of benches (and perhaps desks). Karanth fondly remembers one of his teachers, who taught gardening, preparing paper-flowers, and weaving mats. "Drill" made its appearance.
Letter-writing was given prominence. Time-Keeping, writing drafts, demand notes and various applications were taught, besides, filing records. Reading and writing of 'running hand' (modi) was given attention. Karanth humorously adds that he picked up this style so diligently that even Brahma, the creator cannot decipher his hand-writing!
Karanth's school days were spent in romping round village tanks, beaches and orchards. Village festivals were special attraction. Car-festival (Rathotsava) was eagerly awaited. Decoration of the temple Car (chariot) in which the village-deity was taken in procession went on for months. As a kid, Shivarama Karanth, spent hours and hours watching the carvings being painted. Drawing of the ratha, was a great annual event and the fair lasted for weeks. Yakshaganas, dance-dramas, were arranged alongside. These were attended by the old and the young alike and the show went on till wee hours of morning. For children at school re-enacting and imitating gods and demons was great fun for months together.
See Also:
• Biography: Kota Shivaram Karanth