Marvel-farm of Manikkara

Recently I accompanied Vikas and Hiryoung to the village of Manikkara to visit the family and farm house of a friend Anila Shanbhag.

Manikkara is a small village in South Kanara district of Karnataka. It is rare these days to see Konkani families involved in agriculture and still living in the traditional joint-family system. I was very curious about the visit.

The road was bad and land looked arid and rocky. But then we saw sea like green expanse -- bearing the name "Tulsi Farms". A narrow road led to Laxmi Nivas - the farm house of Gopalakrishna Shanbhogue, Anila's father.

Mr. Shanbhogue inherited the arable land from his father and continued growing coconuts and betel besides cultivating paddy in several acres. But his experimental mind and dash lead to innovations. We saw wonderful experimental fields and plantations, blend of something old and something new. In the farm house, they had a personal library, and an Internet connection.

Konkani Brahmins are predominantly, a business community. Some take to government service and some to banking and legal professions. But in Manikkara we saw farming, business and legal profession in the same family at the same place! Anil's elder brother is a farmer and assists his father in all branches of agriculture. Another brother runs an shop of engineered products and the third is an attorney. They are a joint family. They live in three different comfortably constructed houses, but cooking, sharing food and bringing up their six kids is common duty, with common kitchen and study.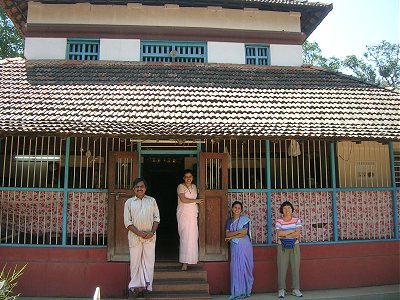 Traditional Household of Manikkara Village
For thirty or more years Shanbhogue led a hard but fulfilling life ably supported by his soul-mate Laxmi who passed away in 2002. Shanbhogue and Laxmi had varied interests. They were fond of music, cultural life, traveling and promoting education. Laxmi was a stupendous manager. She managed a big house-hold of children and relatives and numerous employees. At times she did cooking for fifty people, simultaneously supervising farm work and servants. In farm-houses "food for labor" practice is common. Sumptuous food is provided by the landlord in addition to fixed wages. Running a big cow-shed was also a woman's job. It provides organic manure besides dairy products to the huge household.
With changing times, modern farming implements have been brought in and new cash crops introduced. Cashew, cocoa, vanilla, pineapple, banana, mango, jack fruit, jamun and other fruits are grown. There are spices like cardamom, nutmeg, cloves, cinnamon, pepper, tejpatta, ginger - name a tropical herb, plant or fruit tree, and you will find it in Manikkara farm.
It is stated, there is no shortcut to success. Hard work, proper planning and adaptability has helped Shanbhogues in their ever-new-adventures. It was heartening to see all the three educated, city-bred daughters-in-laws, nicely adapting to village life. Elder Shanbhogue has built a temple and acts as trustee of several charitable institutions.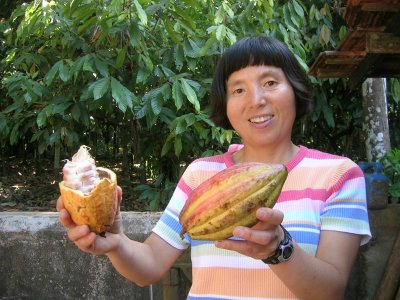 For me it was a great experience - enjoying the traditional Konkani hospitality and enjoying the farm-life. My daughter-in-law rejoiced in the cocoa plantation (she'd thought chocolate and vanilla were chemicals made in a factory; she didn't know they were cultivated) and spice plantations. I think that peaceful surroundings of the farms shows us what life must have been for earlier generations.