Doldrums! - Dhols and Drums

In India the ancient musical instrument of drum has as many forms as there are states and tribal groups who play them. From simpler dhol or dudi to the sophisticated tabla, the umpteen forms of drum bear witness to the finesse, ancient Indians achieved in the field of music.

Drum is a folk as well as classical instrument. In the latter, it is essentially as percussion instrument, accompanying the main artist.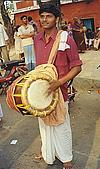 There are innumerable names and forms of drums - Pataha, dundhubhi, hudukka, mridanga, Kudume, Khol, dhak, dhakkuli, gumta, kinnari, nissale, bheri. Dhol and tabla are some better known drums. There are war-drums and soft-music drums. There are roti-sized light drums and huge, heavy temple-drums.
Playing the drum indicated celebration. According to Manasollasa, 12th century Sanskrit encyclopedia, temples, palaces, procession, battles, festivals and good news were occasions and places where drum-playing took place. For fun and leisurely time drum was played without other instruments.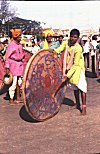 For dance-performances rhythmic beating was primary. In certain folk varieties, the drum-heater is also a dancer. Drum-dance sequences are a galore in Temples-Sculptures.
Earthen or wooden body, processed goat or cattle skin, some strings and sticks are all the accessories of an Indian drum. Resonance in all its subtleties could be brought out only by trained hands.
Among the tribals, the drum occupies the place next only to the food! They are fond of dancing all night to beating drums. Their humble huts proudly display the family drum. It is a mode of communication as well in far-flung tribal villages. Maddale and Kadai (Koraga drum - are beaten with sticks. Chowdike, hudukka and dhakke are played with fingers. At times, metal rings are worn which produce tinkling noise. Dhols and Khols are tied to the waist.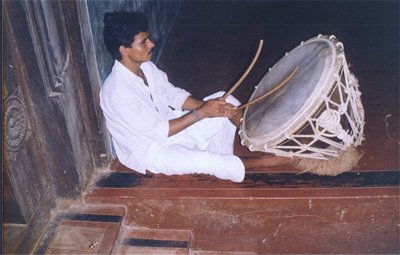 Many modern drums could be identified in sculptures. Manasollasa describes drum-making art in detail and modes of playing it.

See Also:
• Search Kamat Picture Database for Drums