Poet Bilhana
Bilhana, the Bohemian Poet (11 th Century)
Ancient Kashmir was famous for learning and scholarship. This Himalayan region has produced great writers in the fields of religion, philosophy, grammar, astronomy, logic, poetry and poetics. Poet Kalhana, perhaps the greatest Indian poet-historian, hailed from Kashmir. For centuries, Kashmiri poets had the last word in poetics. Hence there is no wonder that Bilhana, the court-poet of Chalukyan king, Vikramaditya VI (1073 to 1127 C. E.) was born in a family of scholars who had specialised in grammar and poetics.
Bilhana has left some autobiographical details in the 18th and last canto of Vikramankadevacharitam, the epic (kavya) he wrote about life and achievements of his patron Vikramaditya VI, one of the great rulers of Karnataka. Bilhana's ancestors came from Madhyadesha (modern Madhya Pradesh) and had settled down in Kashmir. He has recorded his family tree. His father Jyeshthakalasha and mother was Nagadevi. After completing his education, Bilhana set out on a long journey to establish his credentials as a writer.
In those days, a scholar had to sponsor himself and prove his mastery in his field of specializations in different assemblies of scholars and royal court by reading out his works and defending them. Sanskrit being the National language and medium of communication in most of the royal courts, learned people had no language/communication problem wherever they went. They could establish their contact and prove their worth.
Bilhana left Pravarpura, (probably present day Srinagar), his birth place in Kashmir and landed in Brindavan; thereafter he went to Mathura, Kashi and Kanya Kubj (all in present day state of Uttara Pradesh), Dhara, (Madhya Pradesh) and then proceeded to Gujarat. He was patronised by king Karna of Kalachuri dynasty, where he wrote his playlet Karna-Sundari dealing with an ancient love story. He seems to have enjoyed the munificence of another king whose daughter he was supposed to educate and tutor. But he ended up reading love-lyrics to her and finally winning her heart. A very angry king wanted to punish him with death sentence but, after listening to the touching love-lyric of fifty verses which is known as Chorapanchashika changed his mind and gave his daughter in marriage to Bilhana!
© K. L. Kamat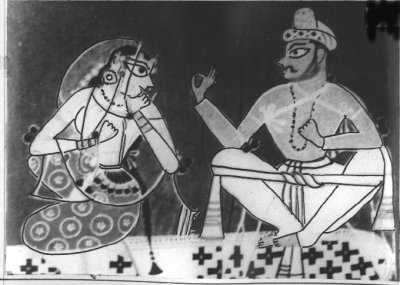 See: Romancing the Teacher
Detail from a 14th century painting "Chorapanchashika"
But Bilhana was bitten by wander lust. He boarded a ship at Veraval (Gujarat) and landed at Honavar which was a great international port at that time. He went on pilgrimage to Rameshwaram sometime later. He returned to accept the warm hospitality of the Chalukya king Vikramaditya who conferred the title of "Vidyapati" and made him a court-poet.
Bilhana wrote the epic of Vikramankadevacharitam dealing with dynastic details and various exploits of his patron king. Many details in this Kavya are authentic and tally with the descriptions provided in the inscriptions. Many more events are exaggerated and consist of eighteen traditional descriptions which were compulsory norms for a mahakavya (an epic poem). But we do get glimpses of the royal capital of Kalyana, the beautiful pristine scenery of Banavasi and several battle scenes in which the king participated.
Bilhana was ever nostalgic about his homeland. He describes that poetry came as naturally to Kashmiris as the saffron which is a speciality of the Kashmir soil; women of Kashmiri were (and are still considered so in India!) beautiful, talented and well versed; they spoke Sanskrit and Prakrit as fluently as their mother tongue. Since Vikramankadevacharitam ends abruptly many scholars feel that Bilhana must