Christmas Eve in Calcutta, 1978

I have been keeping some sort of a diary for a few years now. My husband advised me to keep one as the points noted down over years are a reminder that our life was not spent in vain. I had my first diary written during my Radio posting at Calcutta (now Kolkota) from 1977-1980. While going through the pages of my Calcutta diary written in Kannada language, I found certain material which could be of interest to the readers of my blog. Below are the extracts from the diary for one of those days.

My Diary Dated December 24, 1978

Today being Christmas eve, most of the streets are illuminated. Crowds are leisurely moving in the streets, eating, joking or humming songs. People are thronging into Churches bathed in decorative lights which be-speak of the glory of a bygone era during the Xmas season. This (Calcutta) is a very cosmopolitan city. All festive occasions are greeted with equal enthusiasm.

I for myself decided to visit the old cemetery at Parkstreet. It is full of graves and tombs of scholars, administrators, judges, soldiers, youngsters and beautiful women who left their beloved England in search of a new life and died untimely death. Most of the time the end was due to sultry and unhealthy climate, Cholera, Malaria and other tropical diseases besides battles which were frequent.

The very air in the Old street breathes history. The plaques installed in memory of the dear departed, tell moving stories. This, to me, appears a "documentation-yard" and not a graveyard!

Tomb erected on the grave of Sir William Jones (1746-1794 C. E.) is the tallest. It tells about the extraordinary scholar. He was a linguist (knew more than ten languages), jurist, philosopher, lawyer and first among the orientalists who introduced cultural richness of India to the West. Jones died suddenly at the age of 47. He had developed a tumour and Dr. David Hare, a well known physician of those times was nursing him. Indians and the British equally mourned the death of this kind and considerate judge who had under taken the hazardous journey for a career in India just to understand Indian literature and legal system.

During his short stay in India, he had translated Persian and Sanskrit works especially Ritusamhara and Shakuntala of Kalidasa into English. These became instant rage in Europe.

Recollecting his contribution to the revival of Indian and Asian culture through his establishing Asiatic society of Bengal, of which he was the president, I bowed my head, before going close to the sepulchre, which to me was as holy and endeared as that of any Rishi or learned Hindu sage of bygone days.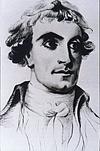 Twilight was approaching. But I was able to read and jot down the engraved passage of the inserted plaque. Those were words of Sir William Jones himself! Did he foresee his (sudden) death? The epitaph reflects Jones's personality in nut shell.
It reads-

``Here was deposited the mortal part of a man who feared God, but not
death, 
        And maintained independence
         But sought not riches; who thought
          None above him but the wise and virtuous;
          Who loved his parents, kindred, friends 
	  and country with an ardour, 
          Which was the chief source of 
          All his pleasures and all his pains;
          And who having devoted,
          His life to their service and to 
          The improvement of his mind, resigned to it calmly
          Giving glory to the Creator,
          Wishing peace on earth,
          And with good will to all creatures.
          On the twenty seventh day of April, 
	  In the year of our blessed Redeemer,
         One thousand seven hundred and ninety-four''

Darkness was setting in. The watchman came and alerted me "Memsaab, this is an isolated and unsafe place. It is already dark. Why can't you come tomorrow