Serpent Worship in India

Worship of reptiles, especially serpents, prevailed in Greece, Egypt and Assyria in ancient times. In India it is in vogue since hoary past. The symbol of Naga(hooded snake) is sacred to many sects, Shaivas, Vaishnavas, Shaktas, even to Buddhists and Jains. In all the four Southern states, serpent god, or Naga or Subrahmanya has a special place with pilgrim centres dedicated to him. Eight Puranas describe the glory of this deity.

© K. L. Kamat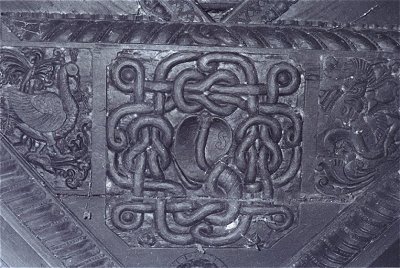 Snake motifs are common in Indian art
The serpent is called Dvija (twice born), which also means a Brahmin. The festival of Nagapanchami which comes during the rainy season is a big festival devoted to snakes. Most of the reptiles are beneficial to farmers. Even their poison is extremely useful in preparing Ayurvedic drugs and there is a forest tribe, Irulas who skillfully extract the poison from the glands of the snakes without killing them.
Swings are a speciality of this festival. It is believed that swinging to and fro symbolises the movement of the hood of a cobra indicating a blessing. Young and newly married wives and girls come visiting their parents, worship serpents live, or in stone (naga) form, fondly call him Nagappa, offer him milk and seek blessings. Farmers pray for health of the cattle, good crops, and prosperity.
Another significant attribute associated with Naga (Naga represents the whole reptile class) is fertility. He is worshipped as the god of fertility; childless couples take vow to install stone naga if they beget a child. Children born after Nagapratishthana or installing of naga stone, are named nagaraj, Nagamani, Nagaratna etc., in gratitude to snake-god. Stone serpents abound in all the regions of India. Such stones are usually found under an Aswattha (Peepal) Tree.
The area from Gokarn to Kerala coast is called Nagakhanda. Nagavana (serpent-forests) are found in almost all the house-estates.
Banavasi Naga stone inscription is the oldest such inscription in Karnataka (1st century C.E.). The Naga or cobra is also called Kshetrapala (protector of fields). It is generally believed that naga stones installed in the fields guard the fields from insects, wild beasts and even robbers; after all, everybody is afraid of the deadly snake-bite!
© K. L. Kamat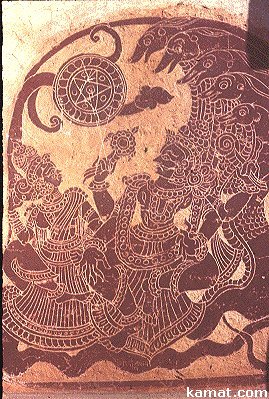 Laxmi and Vishnu relaxing on Serpent Shesha
Serpent symbol enjoys prestigious place in Indian mythology. Vishnu reclines on python sofa of Sesha, Shiva has snake as a neck ornament (nagabharana), Ganesha has a serpent for belt; Balarama, Lakshman and Subramanya are supposed to be incarnations of the Naga God. Shanmukha (six faced god) or Kartikeya, eldest son of Lord Shiva is identified with Subramanya. Vasuki, Sesha, Karkotaka are some of the mythological names for serpents.

See Also:
The Crawling Royals -- They are feared, charmed, and worshiped; online exhibition on The Snakes in Indian Society