---
---
---
---
Kannada Roots of Shivaji
by Jyotsna Kamat
First Published: November 9, 2006 in Amma's Column
Page Last Updated: May 09, 2017
Regionalism is a present bane of Indian Society. For slightest provocation, language and border issues flare-up. Important national issues and basic social needs are forgotten under narrow parochialism and avoidable riots and skirmishes.
Border district of Belgaum is always a bone of contention between Karnataka and Maharashtra so also architectural wonders of Ajanta, Ellora and Sravanabelgola which Maharashtrians at times claim as their own. This is unfortunate, because all earlier Kannada emperors from Chalukya, Rashtrakuta and Yadava dynasties ruled over the vast Karnatak-Maharashtra area, without discrimination, promoting local language and literature all the time. Even the most popular deities of Maharashtra like Vitthala, Mahalaxmi, Tulajabhavani and Khandoba have their origin in Kannada land.
For me it was a pleasant experience, though not a very big surprise, to learn recently, that Chhatrapati Shivaji Maharaj, one of the noblest sons of India and the greatest king Maharashtra had ever seen, had Karnataka origins in his progenitor.
The fact that "Bhosle", the dynastic surname of Shivaji, is a derivative of "Hoysala" had been proved some years ago, etymologically. The Hoysalas were illustrious rulers of Karnataka.
A distinguished researcher and scholar of Maharashtra, Dr. R.C. Dhere has brought out a 500 paged book with 83 plates in Marathi, entitled "Shikhar Shinganapurcha Shambhu Maharaj". He had put in thirteen years of relentless research, had traveled extensively in Karnataka, Maharashtra, Andhra Pradesh, Rajasthan and Sourashtra (Gujarat) and undertaken deep study of Marathi folklore to prove his findings. The last is most important, because folk-songs and ballads are sung in praise of the heroes contain historical elements such as names of battles won, enemies killed, and heroes who saved the day are remembered and their titular deities worshipped certainly find mention in song-stories sung on festive occasions. The ballads sometimes form the only available source for reconstructing regional history in India.
V.N.O'key/Kamat's Potpourri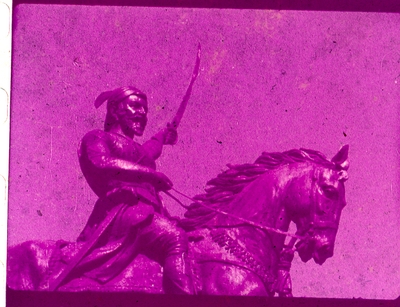 Statue of Shivaji Riding a Horse
,
Establishing Shivaji's Caste
History bears witness that Shivaji wanted to save Hindu land, Hindu religion and Hindu traditions from the oppressive Moguls and left no stone unturned to unite the like minded forces. In this context, it was supremely necessary, to establish strong Hindu kingdom against Moguls in the North and Muslim kings in the South. Shivaji fulfilled all the qualifications of a worthy ruler. Kingship was order of the day, and strong Kingship was absolutely necessary. But the conservative Brahmins of Maharashtra were of no help. They thought Shivaji was Shudra, a low born. Rajputs of those times considered themselves highly superior Kshatriyas, (though history recognizes certain clans as marauders with no caste!) and instead of uniting and helping Shivaji, they shied away from him.

Shivaji sought the help of Gaga Bhat of Kashi and of Andhra origin. At the time Gaga Bhat was considered greatest authority on ancient texts and their interpretations. He knew dire need of the time and that Shivaji was an astute statesman and a visionary. He tried his best to help. Gaga Bhat declared that Shivaji was a Kshatriya, and that Shivaji's ancestors came from Sourashtra and belonged to Shishodya dynasty. He arranged for Upanayana and other shastric injunctions for Shivaji, and finally succeeded in according the rightful place to Shivaji as a King. Gaga Bhat is a splendid example of real Brahmanya (the power of Brahmins).

It is irony of history that Shivaji was in fact, a descendant of some branch of Hoysala royals and was of Yadava origin. But troubled times and inevitable migrations come in the way of martial clans to maintain family tree. Hence a gap of centuries made people forget his royal origin.

Dr. Dhere has established that Baliyappa or Balli, an ancestor of Shivaji came from Sorturu in Gadag district in present day Karnataka (and not from Sorat from Sourashtra). He was a chieftain (gavali), with thousands of cattle under his command, as established from folk and traditional songs sung by devotees of God Shambhu of Shikhar Shingnapur.

Bordered by Pune, Satara and Sholapur districts, Shingnapur is rendered sacred by the flowing of Bheema, Krishna Manganga and Neera rivers. Shambu of Shingnapur is family deity of Bhosles to which Shivaji belonged. Fishermen and cowherds predominate in the region. Shambhu is local variation of Mallikarjuna of Sri Shaila. Mallikarjuna attracts devotees from all states south of Vindhyas but those from Maharashtra outnumber. The God Mallikarjuna of Kadu Malleswaram established by Ekoji Bhosle in Bangalore also Shambhudeva) is replica of Mallikarjuna of Srisaila.

A Shingnapur copperplate dated 1681 A.D. mentions one Baliyappa Gopati (Cowherd chieftain) who built a temple for the Linga. The copper plate mentions his grand-father as Mahabhillama. Bhillama was a Yadava king of 14th century. During his tour of the South, Shivaji visited Sri Shaila, stayed there for eight days and worshipped his titular god. With several such original sources, Dr.R.C. Dhere has proved that the founder of Shivaji's Bhosle family was Balliyappa of Hoysala or of Yadava origin, and his family god was Shambhu or Mallikarjuna of Sri Shaila.

See Also:
Maratha King Shivaji -- A brief biography and a timeline of Shivaji who founded the powerful Maratha kingdom.
Every Man, his Place -- A guide to the complex system of castes in India, including stereotypes, prejudice, myths, and history.