Kuvempu and I
Kuvempu or K.V.Puttappa (1904-1996) colossus among Kannada poets would have completed a century on 29th December, 2004.
As children, we grew reading his compositions mane, mane, muddumane (home, sweet home) and Bommanahalliya Kindarijogi (song-story inspired by Robert Brownings' Pied-Piper of Hemlin) and short stories from Malenadina Chitragalu (pen-pictures of Malenadu). Many of his poems were included in our school-texts. Along with Usha, my sister, I greatly relished reading his famous novel Kanur Heggaditi, and plays like Raktakshi, Yamana Solu and Beralge Koral. There was a portrait of Kuvempu in one of the books. We discovered that he was a very handsome man with chiseled features and curly looks. No surprise, we were great fans of his, a little short of worshipping. We felt the same thing about Swami Vivekananda. Years rolled on. We kept on reading his books whenever we could find one, though we could never see or hear him.
© K. L. Kamat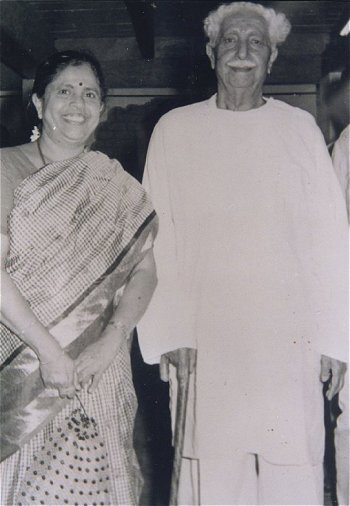 Jyotsna with Kuvempu (1986)

Providence gave the opportunity. I was posted as the Director of Radio Station at Mysore where Kuvempu was spending his retired life in 1983. He had lost his wife. She was inspiration to many of his love-lyrics, which were a rage. A shy and reserved person, he had totally given up accepting any literary assignment or even meeting people. Very eager to see him, I wrote a letter, introducing myself and requesting appointment for a courtesy call.
I got a typed post-card back giving me a day a time for an appointment. I went to 'Udayaravi', his residence, full of awe and hesitation. The formal visit lasted for a few minutes. While leaving, he called 'Akka!' and his daughter appeared. I asked her whether she was Tarini. Surprised, she asked how I knew. I recalled a humorous incident from Kuvempu's autobiography where Tarini figured along with other members of the family. Kuvempu guffawed. A loud and hearty laughter. It was an incident over which he chided his wife over her inability (!) to prepare a sweet (seeyappu), which he greatly relished as a child, which his granny used to provide. The ice melted.
Kuvempu had snapped all his ties with the state controlled Radio (called Akashvani) over some unhappy incident. It took me some time to settle the matters. His eightieth birthday was nearing. Professor D. Javaregowda, a distinguished writer and retired Vice-Chancellor of Mysore University who was close to Kuvempu was approached to interview the poet. The subject was the poet's favorite theme 'The Universal Man'. It worked! Kuvempu arrived at the studio after a gap of several years. It was a great day for all of us. He recalled earlier days, when all the programs were broadcast live. He was a frequent visitor along with Masti Venkatesh Iyengar, another literary luminary and acted with him as one of the members of Program Advisory Committee. This august body used to control quality of programs in those days.
Since its very inception, Kuvempu breathed life into Akashvani (Radio) Mysore, through his words. It was due to pioneering effort of Dr. M.V.Gopalswamy, a professor of the Mysore University, that a radio station came up in Mysore in 1936. Kuvempu was requested to deliver the inaugural address. It was sheer coincidence that I happened to be in Mysore to celebrate the Golden Jubilee in 1986. I requested the Poet to speak a few words on the memorable occasion, organized at the auditorium of Jaganmohan Palace. His favorite composition, O! nanna chetana! (O my soul!) sung by thirty-five young trained artists was arranged. Kuvempu obliged. He regaled the audience by recollecting numerous incidents of his first ever radio (invisible) talk, fifty years ago, in company of "invisible ghosts" moving in the air !
He always appreciated new attempts in writing and music and was an avid listener of radio programmes. I had by then developed enough intimacy to drop at his residence, now and then, without appointment! He was all appreciation for my husband's American travelogue – 'Nanoo Amerikege Hogidde'. It was a totally different book from other ones he had read, he said. He gave reasons for admiration, quoting incidents from that book. I badly missed the tape recorder which would have recorded the poet's spontaneous reactions about the book!
I was transferred to Mumbai after my three-year-tenure in Mysore. Before leaving, I visited him to seek his blessings and touched his feet in respect as usual. He presented an autographed copy of famous novel, 'Malegalalli Madumagalu'. The new edition had just been out then. It remains as a treasured item with me. This book is a favorite of my son Vikas, who translated the entire book to his bride on their honeymoon.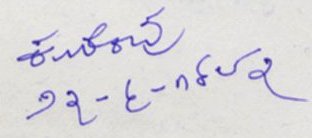 See Also:
Kuvempu Centennial -- A collection of rare pictures commemorating the birth anniversary of Kannada poet, philosopher K.V.Puttappa.
Memoirs of Mysore -- Jyotsna Kamat recalls experiences as a Central Government employee trying to make peace with angry local activists in Memoirs of Mysore