Dewan Purniah
First Online: March 16, 2006 in Amma's Column
Page Last Updated: May 09, 2017
The first Dewan or Prime minister of erstwhile Mysore state, Purniah (a.k.a. Poorniah, Purnaiah, and Poornayya) had the unique distinction of serving three rulers -- Hyder Ali, the usurper, then his son Tippu Sultan and finally the Hindu King, the rightful heir, who was enthroned after the Mysore war of 1799 CE.
kamat.com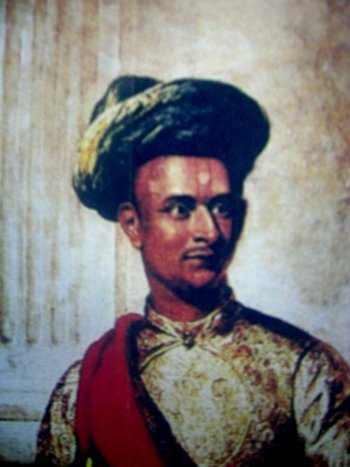 Dewan Purniah (1746-1812 CE)
Early Years and Rise
Purniah came from a humble Brahmin family, and was born in 1746 CE. He lost his father at the tender age of eleven, and had to seek employment to support his family. He started writing accounts at a trader's shop. This grocer had close contact with a rich merchant Annadana Setty who supplied large quantities of groceries to Hyder Ali's palace and army. Through this connection Purniah very soon earned confidence of HyderAli because of his proficiency in accounting and excellent handwriting. Endowed with prodigious memory, proficiency in several languages and sheer hard work, Purniah became head of Accounts Department and a confidant of the ruler.
Loyalty and Years with Tippu
When Hyder Ali died in the capital city of Srirangapattana in 1782 Tippu was encamping in Kerala. It was Purniah who kept the king's death a top secret, and sent the word to Tippu by the speediest way possible. Meanwhile Hyder's body was kept embalmed, and business went on usual. This kept revolt or uprising in check till Tippu's return. His succession was smooth.
Purniah soon became a member of Tippu's inner cabinet. He was the only Hindu in an all-Muslim team! In fact Tippu tried to convert him to Islam, but Tippu's mother intervened and prevented it. However, Purniah's loyalty to his master was unquestionable. He attended every military campaign Tippu Sultan led. In his last battle with the British Tippu had entrusted his eldest son and heir-apparent to Purniah's care; Tippu died on the battle field in 1799.
K.L.Kamat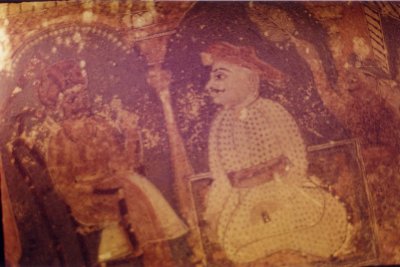 Hyder Ali and Tippu Sultan
Purniah was very loyal to Hyder Ali and Tippu Sultan
Purniah was also leading a battalion when he was asked to surrender by General Harris, who led the British forces. He readily agreed. "How can I hesitate to surrender to protectors of my tribe from Kashi to Rameshwar?" -- He seems to have told the British General. He was fully aware of the mood of the masses. They were fed up with oppressive administration of Mir Sadak under Tippu and whole heartedly welcomed the exiled Hindu ruler.
Deal with British
Purniah sought an interview with the General, who was very much impressed with Purniah's political acumen, maturity and fearlessness. He informed the General that administration had nearly collapsed, many of the able army and civil officers were killed and plundering had already set in. He warned that if the Sultan's army was not checked, they would cause havoc like Thugs and Pendaris in North India.
The British were more than convinced. Though they turned down his proposal to pass on the throne to Tippu's son, they made Purniah the first Dewan of the newly formed state of Mysore. Queen Regent Lakshammanni readily agreed to the arrangement. The Child-King, later Mummadi Krishnaraja Wodeyar, was duly educated and trained by Purniah.
Years with Wodeyars
Now, Purniah's first concern was Law and Order. He suppressed the revolting Palegars (local chieftains) who had become despots. He started releasing cash allowances to Mathas, temples and dargahs, which Tippu sultan had stopped. He helped the British with army and resources against Marathas, and earned good will for the state. He opened a judicial department for peoples' complaints.
His public works have left a great legacy. A forty-eight mile canal was dug to supply drinking water to Mysore. Several tanks were dug. A stone-bridge, dedicated to Marquess of Wellesley, the Governor General was constructed across river Kaveri connecting Srirangapattana with Kirangur. It has stood stead fast for the last two hundred years.
Large number of choultries were built in the name of Maharaja of Mysore. But people till recently called them "Dewan Purniah's Chatras"! They were available to all travelers. "Musafir Khanas" appeared for Muslim travelers and "traveler's bunglows" for the British.
Revenue administration was streamlined. Mysore state had a volatile border with incessant skirmishes, a legacy of the previous regime. Methodical land-surveys were conducted. Borders were notified. Posts of Shekdars, Amaldars and Tahshildars were created which came down to modern times.
He was duly honored with a big grants and a large pension. His desire was to make his position a hereditary one, just like that of a ruler, which did not materialize.
Purniah will be remembered for laying the foundation of sound administrative machinery for the state. Mysore later came to be recognized as one of the foremost progressive native states in British ruled India.

See Also: