Rahul Sankrityayan (1893-1963)

by Jyotsna Kamat
First Online: October 29, 2006
Page Last Updated: May 09, 2017

India is known as land of great saints and scholars. But it is yet to witness a person who knew more than thirty languages,travelled more than tens of thousand of miles(at times on foot), taught at well-known universities without formal education, a freedom fighter who was jailed thrice, and whose published works numbering more than 135 ranged from travelogues, sociology, history, religion, philosophy, autobiography, biography, Tibetology, lexicology, folklore, fiction, science, drama, essays and even pamphleteering. It was but natural that he was known as Mahapandit (Greatest scholar). His name was Rahul Sankriyayan.

Born as Kedarnath Pande in an Orthodox Brahmin family in a small village in Azamgarh district of Uttar Pradesh, he lost his mother Kulawanti very early. His father Govardhan Pande was a farmer; the boy was brought up by his grandmother. All the formal schooling he got was at the primary school in the village. That was the basic knowledge of Urdu and Sanskrit. A restless soul, he ran away from home at the age of nine, to 'see the world'. He did odd jobs, moved with Sadhus (mendicants) mainly living on alms. After some years came back home briefly and left. He studied Sanskrit at the monastery in the traditional way. He also taught himself various Indian languages and English. He mastered various dialects of Hindi, like Bhojpuri, Malavi, Avadhi, Maithilli, Braj, Rajasthani and Nepali. He learned photography as well.

Inst. of Tibetology/Kamat's Potpourri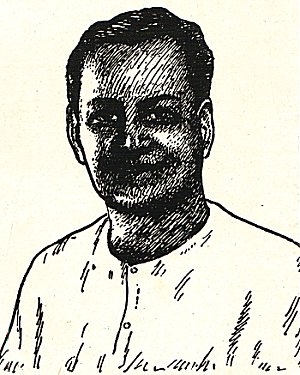 Rahul Sankrityayan (1893-1963)
A great multi-faceted scholar and traveler of India
He started touring all pilgrim-centers of India. He stayed at Madras, and learnt Tamil. He visited Tirupati in Andhra Pradesh and visited Bangalore, Hampi and Bagalkot in present day Karnataka.
He returned to monastic life and stayed at Arya Musafir Vidyalaya at Agra and mastered Sanskrit language, and started reading books on Christianity, Islam and various sects of Hinduism. His writing career started in his twenties; he mainly wrote in Sanskrit and Hindi for periodicals.
The Jallianwalah Holocaust (1919) turned him into a strong nationalist and he plunged into India's independence struggle. He was arrested for anti British writings and speeches. He was jailed for three years, wherein he translated the Quran into Sanskrit.
He studied Pali and Sinhalese languages and started reading Buddhistic texts in the original. He was slowly drawn to Buddhism and changed his name to Rahul (after Buddha's son) Sankrityayan (Assimilator).
After his release, he went to Bihar and worked with Dr. Rajendra Prasad (later President of free India) who became a close friend. In those days social service was part of freedom struggle and he engaged himself in constructive activities laid down by Gandhiji. He became President of Azamgarh District Congress as well.
But the travel bug never left him. He undertook hazardous journey to the forbidden land of Tibet. There were practically no roads. Only nomads and petty merchants traveled with loads on mules. Disguised as a Buddhist bhikku (mendicant), He entered Tibet via Kashmir, Ladak, Kargil and started his journey on foot.
Rahul's main purpose was to collect lost works in Sanskrit on Indian culture in general and Buddhism in particular. After Bakhtiyar Khilji's burning the libraries of Nalanda and Vikramshila universities in the 13th century C.E, not many ancient texts in Sanskrit survived in India. Some were smuggled out on time to Tibet. There was general belief among Indian scholars that these were well preserved in Tibetan monasteries, but not explored. But Rahul found out most of these had disappeared. With great difficulty, he could salvage some from the ruins of a monastery, which were all in Bhot language and not in Sanskrit. He returned with the valuable manuscripts and some Thanka paintings which are preserved in Patna museum.
Rahul visited Tibet, three more times. He mastered Tibetan language, wrote Tibetan primers, grammar and Tibetan-Hindi dictionary. Only first part of the last was published posthumously.
He again took to travel and visited Sri Lanka (where he taught Sanskrit), Japan, Korea, China, Manchuria and proceeded to Soviet Russia. He saw a fire temple in Baku and discovered an inscription in Devanagri script. From there he went to Tehran, Shiraz and Baluchistan and finally came to India.
His writings continued. He maintained daily diaries in Sanskrit which were utilized fully while writing his autobiography. In spite of profound scholarship, he wrote in very simple Hindi, so that a common man could follow. He wrote books of varied interest. He was aware of limitations of Hindi literature and singularly made up the loss in no small measure. He wrote 146 books, some of which are voluminous. Many works remain unpublished.
Personal Life
Rahul's personal life was also unique and interesting. He was six feet tall, with a wide forehead and broad chest. He had that ancient Hindu Aryan look. He was married when very young and never came to know anything of his child-wife. During his stay in Soviet Russia a second time, accepting an invitation for teaching Buddhism at Leningrad University, he came in contact with a Mongolian scholar Lola (Ellena Narvertovna Kozerovskaya). She could speak French, English, and Russian and write Sanskrit. She helped him in working on Tibetan- Sanskrit dictionary. Their attachment ended in marriage and birth of son Igor. Mother and son were not allowed to accompany Rahul to India after completion of his assignment. It was Stalin's Russia.
Late in life, he married Dr. Kamala, an Indian Nepali lady and had a daughter (Jaya) and a son (Jeta). He accepted a teaching job at a Sri Lankan University, where he fell seriously ill. Diabetes, high blood pressure and a mild stroke struck him. Most tragic happening was the loss of memory. He breathed his last in Darjeeling in 1963.
Compilation of Important Works
The turn over of Rahul Sankrityayan's writing is mind- boggling which could be short -listed. Some writing is incomplete, some in manuscript form. List of the books published are as below. They are mostly in Hindi.
Travelogues:- on

Ladakh
Srilanka
Europe
Tibet
Japan
Iran
Russia
Kinour
Tibet
Intraversible regions of Asia
China
"From the pages of my travelogue"
Ghumakkad Sastra (Science of roaming)

Collection of Essays on political and social matters 4 works
Novels: 9 works
Collections of short stories: 4 works
Biographies: 16 works
Plays: 2 works
Tibetan-Hindi books: 3 works
Tibetan-Hindi Dictionary
Sociology: 1 work
Politics; 8 works
Philospphy:3 works
Religion:8 works
Lexicon(Hindi-English): One
History of Literature:2 works
Folklore:1 work
History:5 works
Complications:4 works
Translations:11 works
Sanskrit works; Editing, translation, and research:16 works
His most popular work of fiction based on historical facts, "Volga to Ganga" is a collection of 22 short stories. They deal with pre-Vedic times to modern India (1944) representing various stages in civilization between the basins of the two great World Rivers. The book is translated in all Indian languages, English and Russian.

See Also:
Pioneers of Indology -- We remember those who have enriched our lives through their mastery of the field of Indology and the Study of India