Ancient City of Banavasi
by Dr. Jyotsna Kamat
First Online: January 01, 2006
Page Last Updated: May 09, 2017
Once a glorious place and capital city of Kadamba kings, Banavasi is in Sirsi Taluka of Uttara Kannada District. It is twenty two miles away from Sirsi town. Like Sravanabelagola, it is historically the oldest town in Karnataka state.
Banavasi is mentioned in the Mahabharata epic. The Buddhist work Mahavamsa states that Emperor Ashoka sent missionaries to Banavasi. It was part of Shatvahana Empire for centuries and stone inscriptions, coins and brick structures of their period were discovered in Banavasi. A merchant by name Bhutapala Shetty, built the famous Karla Chaityalaya near Pune in the second century C.E. He hailed form Vaijayantipura another name of Banavasi. It was also called Jayantipura. The great Kannada poet Pampa was so much enamored of this place that he exclaimed that he wished to be born as a petty cuckoo or bee in the land of Banavasi!
We are reminded of foreigners mentioning Banavasi. Greek geographer Ptolemy's (1st century C.E), Banavasi is identified with this place. Huen Tsang the Chinese monk and Alberuni the Arab scholar also mention it. Tradition speaks of Kalidasa the greatest Indian poet, having visited Banavasi, as an ambassador of Gupta kings, and the beautiful description of nature in his love lyric Meghaduta, pertains to Banavasi.
The Aihole inscription of Pulakeshi II calls Banavasi as "Jaldurga" or water fort. The Varada river flows around the town on three sides. Perhaps the fort was surrounded by the fourth side as well, in ancient times, when the river was mighty.
K.L. Kamat/Kamat's Potpourri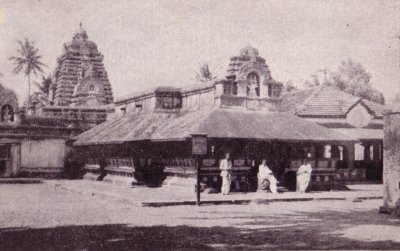 Madhukeshwara Temple, Banavasi
Apprx. 8th century A.D.
Madukeshwara temple is the most important monument of the place. Originally built by the Kadambas, it has undergone many additions and renovations, from the Chalukyas to rulers of Sonda -over a period of a thousand years. Madhu in puranas is a demon killed by Lord Vishnu at the request of Ishwara or Lord Shiva in Banavasi.
The temple is naturally a synthesis of several schools of architecture. Though presently a Shivalinga of ancient times is there, it is believed that the original shrine was that of Vishnu. The statues of Kesava (Vishnu) and Kartikeya are also there, which are attributed to Kadamba times. There are many smaller idols of different deities, added from time to time in the renovated temple.
The famous five hooded Naga sculpture with the Prakrit inscription of 2nd century C.E was installed by princess Sivaskanda Nagashri when she got constructed a Vihara and tank as per the inscription in second century C.E. In the compound of Madhukeshwara temple, there are two monuments. The mantapa and a stone cot.These are beautifully carved monolithic structures, which are contributions of Sonda rulers. There are twenty temples and monuments round about Banavasi. These are mainly Shaiva, Vaishnava, Shakti (Parvati and her local image, Mari). There are Jaina and Buddhist relics, attesting that Banavasi was a homeland of all sects and creeds.
As the most ancient city of India, perhaps next only to Varanasi, Banavasi has been a cultural and religious center for ages. Buddhist, Hindu and Jaina scholars lived and worked here.
If systematic and continuous excavations by committed staff are undertaken in the region, Banavasi is sure to reveal true Indian ancient metropolis and ideal one –representing endless tolerance and embodiment of unity in diversity.
Banavasi today (year 2005) is a small town with a population of 4,267. But it has a story of more than two thousand five hundred years hidden in its heart.

See Also: