Archaeological Site of Mohenjo-daro
Mohenjo-daro (a.k.a. Moenjodaro and Mohenjodaro) located in today's Sindh province of Pakistan is a great source of archeological information about the lost Indus River Valley civilization. The city is about five thousand years old, and was abandoned around 1700 BCE, probably due to a change of course of the river which supported the civilization. It was rediscovered in the 1920s by archaeologists and has since been elaborately excavated.
Govt. of India/Kamat's Potpourri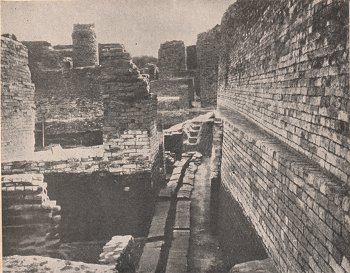 Drainage System at Mojenjo-daro

Some of the remarkable artifacts of Mohejo-daro are remnants of a drainage system, a large well, and the famous dancing figurine. Archeologists believe that repeated flooding by the Indur River caused several iterations of rebuilding of the city.


See Also:
Saraswati River Valley
Indus River Civilization