Machikabbe the Royal Mother-in-law
Page Last Updated: May 09, 2017
© K. L. Kamat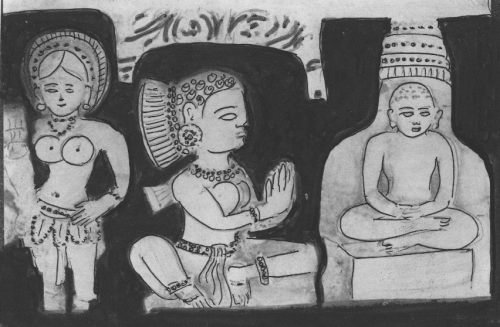 Machikabbe, Queen Shantala's Mother
Machikabbe was the mother of highly talented daughter Hoysala queen Shantala. When Machikabbe came to know about the sudden death of her daughter, she was broken-hearted and undertook the most difficult vow of "sallekhana" (starvation to death) for a whole month under the spiritual guidance of her preceptor, Prabha-chandra, and laid down her life by "Pandita-marana" (a death chosen only by the esoteric learned) in 1131 A.D. A panel on the top of the inscription at Shravanabelagola gives a good glimpse of the last days of Machikabbe. In fulfilling her vow, she has been shown as meditating in front of a Jina. Her limbs are shown as thin and weak as result of her prolonged fasting and thus her head and hair-bun look very pronounced. She is wearing only a loin cloth and a few simple ornaments. A male and a female chauri-bearers are depicted as worried about Machikabbe's refusal to give up her vow which will eventually lead to her death. We must be grateful to sculptor Dasoja for leaving behind a photograph-like sculpture for us.
© K. L. Kamat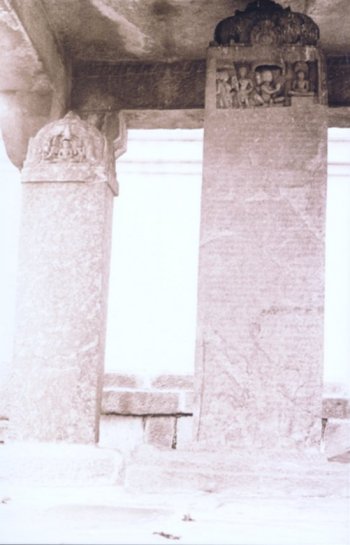 Nishidhi Memorial of Machikabbe

See Also:
Hoysala Dynasty -- A brief note on the Hoysala dynasty that ruled parts of South India from 1000 A.D. to 1346 A.D. Includes discussion of their legacy in Indian art.
Tracing History Through Memorials
Introduction | Machikabbe | Chavundaraya | Savinirmadi
Jirale Mallamma | Kali | Hero of Nelavagilu | Loga & Talaga
Saviyabbe | Vama Shakti II | Hariyakka