First Online: January 15, 2001
Page Last Updated : January 10, 2018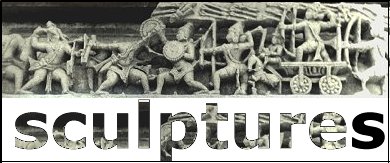 Introduction
India is truly a treasure house of sculptural art. Spread throughout its length and breadth are memorials for the brave (topics - pictures), carved cave temples (pictures), stunningly intricate designs (pictures), and other sculptural artifacts. For the uninitiated, they might look similar, but a careful study provides deep insight into India's glorious past, her mysterious civilization, and importantly, her lost history.
Stone craft in India has been in existence for a very long time. From the time of the polished sandstone lion edict of Sarnath to the present time, this craft of stone has traveled a long distance. In its course it flowered, transformed and gave expression to many styles known today as the Maurya, the Gandhara, the Gupta, the Chalukya, the Chola, the Vijayanagar, the Orissa, the Hoysala, the Mogul, the Indo-Muslim art of the Deccan and the like. The rock-cut caves of Ajanta and Ellora and of Udayagiri; the Chalukyan temple of Virupaksha, of Pattadakal, the great Chola temple of the Nayakas at Madurai, the Indo-Aryan temples at Bhuvaneshwar, Puri and Konark, the Sun temple of Modhera, Gujarat and the Chandela temples of Khajuraho: these ageless edifices present an endless variety of exquisite stone carvings. Today, the stone artisans draw much of their inspiration from these monuments and statues. The glamorous delight of the Taj Mahal in Agra has captured the marble craft of India. Most of the statues in the state of Orissa show similarity in form and details to the sculptures of the Jagannath temple at Puri. Traditional motifs such as standing Deepalakshmis, courting apsaras (temptresses,) lotus blossoms are all adopted as decorative stands for table lamps, ash-trays, or stone flower vases.
Kamat's Potpourri is perhaps the largest single source you will find on the sculptures of India. Kamat has photographed and studied them since his teenage years and amassed an unbelievable collection on the topic. Several doctorates have been earned based on his archives and we are happy to bring this large collection to the researchers worldwide. --Ed.
Table of Contents
Seductresses in Stone
The intricately carved Hoysala sculptures of Belur, Halebidu, and Somanathapura.
Beauty of Khajuraho Temples
The Chandela temples in Central India are famous for their erotica. They are also beautiful.
Remembering the Heroes
Sculpted memorials were erected for brave soldiers and volunteers in India; they are an invaluable resource for historians.
Sculptures of Bhatkal
Medieval social life comes alive in this Mud-Bhatal temple in Karnataka.
Hoysala Temples of Belur
Kamat writes that the temples of Belur exhibit a joyous exuberance of fancy, scorning mechanical refrain. "All that is wild in human faith or warm in feelings is found portrayed in these temples".
List of Pictures