First Online: February 07, 2010
Page Last Updated: January 10, 2018
Subhray Maharaj was the deputy Prime-minister to Tippu Sultan. But he took to asceticism (sanyas), and founded the Subhray muth at Solapur, in southern Maharashtra. The monastery he founded houses a collection of about 500 of Subhrayji' s paintings -- perhaps the biggest art treasure of a single artist in India.
Paintings of Shubharay Math in Solapur
---
---
See Also: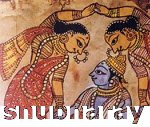 Artists of India