First Online: June 01, 2001
Page Last Updated: May 09, 2017
Tanjore (a.k.a. Tanjavur) traditional paintings are a very important form of classical Indian school of paintings, finding their origins in the prosperous Chola period of 9th century A.D. The characteristic of Tanjore paintings if the multi-layered process by the the artist creates the paintings, as also the distinctly South Indian accent attributed to the paintings.

© K. L. Kamat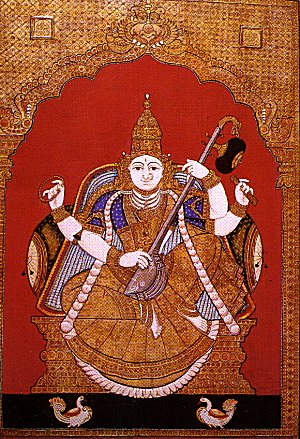 Goddess Saraswati
The theme of most Tanjore paintings are Hindu Gods and Goddesses. The following examples illustrate the elegance, rich color, and distinct Deccan flavor of fine arts.
---

Goddess Saraswati in a Tanjore style painting


Lord Shiva Performing His Cosmic Dance

Tanjore School of Painting
---
See Also: