Malleswaram Miscellany
A Slice of Life in a Bangalore Neighborhood
First Online: April 17, 2002
Page Last Updated: January 10, 2018
Introduction
We've lived in Malleswaram (mull-ae-sh-war-rum) in the city of Bangalore for many many years and I am familiar with every street and corner of the old Bangalore neighborhood. Historically, Malleswaram dates back to the Maratha times (Shivaji's brother Ekoji is said to have built what is now the Kadu or Wild-Malleswaram temple), and geographically extends from Yeshwantpur in the north, bordering the great campus of the Indian Institute of Science, to what used to be the Minerva mills, and from the Milk Colony to Vyalikaval extension horizontally. The grid of roads are called main roads and cross roads (like avenues and streets in USA), and it is one of the few places in India where you can locate a house by its address (see: Amusing Postal Addresses from India).
© K. L. Kamat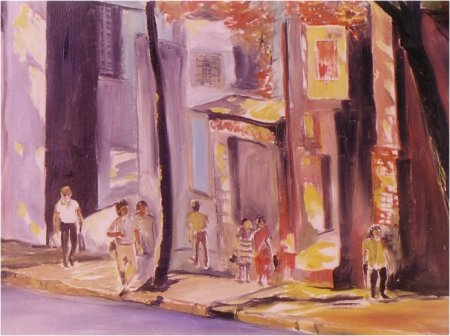 A Street in Malleswaram -- Painting by Artist Shivanand Bekal

The neighborhood of Malleswaram hosts traditional people, spiritual people, ordinary people, and extra-ordinary people. Nobel laureates (C.V. Raman), and world champions (Prakash Padukone) live or lived here, so did many writers, scholars, musicians (Doraiswamy Iyengar), and educationists (M.P.L.Shastry). The poor, destitute, and beggars also call it their own and make a living in the large number of temples, and churches located here. The flowering trees on either sides of the streets hide all the pollution, and the popular street-side eateries obscure some of the finest south Indian restaurants in the city.
Welcome to the neighborhood of Malleswaram!
-Vikas Kamat
Pictures of Malleswaram
Hotspots of Malleswaram
MES College on 15th Cross
Chitrapur Mutt Complex, 15th Cross and 8th Main -- hub of Chitrapur Saraswats
The Hurigaulu Angadi -- Peanut Shop on Sampige Road
The Janata Hotel -- famous for Masala Dosa
New Krishna Bhavan -- home of south Indian delicacies opposite to the Bashyam Park and Sampige Cinema
Veena Stores -- delicious roadside breakfast on Margosa Road and 15th Cross
Ubhaya Vendanta Sabha -- Society for philosophical debate
Kendriya Vidyalaya on 18th Cross
MLA (Malleswaram Ladies Association) School
The Cluny Convent on 13th Cross
The Malleswaram Railway Station
The Tonga stand at Malleswaram Circle
Nandini Bakey (no longer in business, but was an institution of a long time, opposite to 15th cross Vegetable market)
The Loveluck Stores
The historical Kadu Malleswar Temple on 15th Cross
See Also: