When man has to fight scavengers for a living....
by K.L.Kamat
First Online: February 05, 2000
Page Last Updated: January 10, 2018
In India, the man-scavengers (rag pickers) sometimes have to compete with the natural scavengers such as crows to make a living. For years, as I walked to work in front of a choultry, I have routinely found beggars chase away stray dogs and crows to eat the thrown out food. In the picture below, a fully able man is picking garbage along with stray donkeys and a dog (to the right, almost cut). I later asked him for a pose for a portrait (shown below). In a country where college graduates remain unemployed for decades, what were an illiterate, unskilled man to do?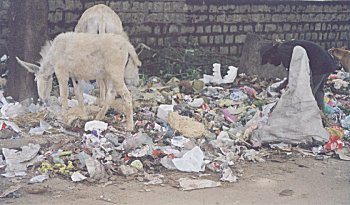 A man, stray donkeys and a stray dog competing for trash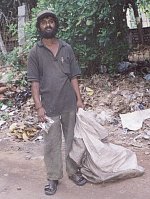 When working a whole day does not buy you two meals...