Page Last Updated: May 09, 2017
The Satavahanas
50 B.C. to 250 A.D.
King Simuka, belonging to the Satavahana (a.k.a Salivahana) family in present day Andhra Pradesh founded the Satavahana dynasty after defeating the Mauryan rule in the Deccan. Simukha and his successors extended their kingdom from the mouth of the Krishna river to the whole of the Deccan plateau.
The Puranas mention the Satavahanas and describe the rule in much detail. The dates in the Puranic sources, describing the rule of thirty kings over a period of 450 years, are however dispute of many a historians.
kamat.com/Kamat's Potpourri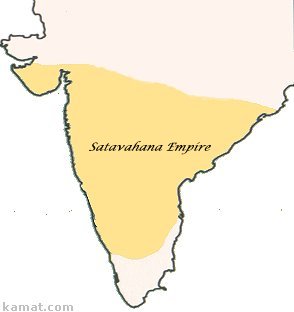 Span of Satavahana Empire
Satavahana kings ruled much of Deccan plateau between 50 B.C. to 250 A.D.
K.L. Kamat/Kamat's Potpourri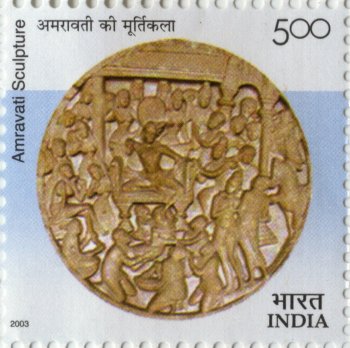 Amaravati Sculpture
Detail from a stamp honoring Government Museum, Chennai