An Online Exhibition of Historical Artifacts
© K.L.Kamat/Kamat's Potpourri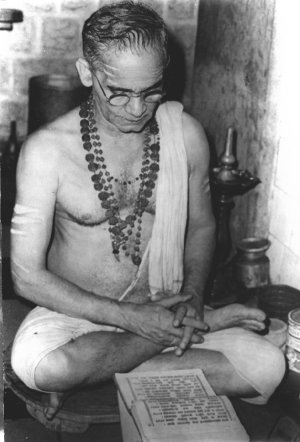 The Scholar of Gokarn
Gokarn in western Karnataka is a popular place of pilgrimage. It is home to a number of scholars and pundits who pass on the knowledge to generation to generation. In the above picture, a Bramhin is studying Sanskrit texts as part of his daily ritual.
See also:
Idol of Ganapati, Gokarn Pilgrimage Center

History of Education
Full text of Jyotsna Kamat's book documenting the tradition of education in Karnataka through the centuries; covers Buddhist, Jaina, Hindu, and Islamic educational systems.