An Online Exhibition of Historical Artifacts
© K. L. Kamat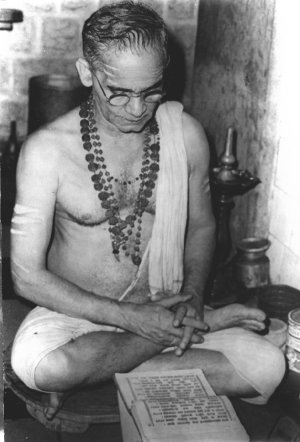 A Brahmin Reads Scriptures, Gokarn
Among the upper-caste Hindus (Bramhins), the formal education started at a very early stage, at home or at Gurukuls. It involved reading Sanskrit shlokas by heart, and reciting of the religious texts. In the picture above, a priest is going through his daily study of mantras, the sacred Hindu prayers recited during ritual ceremonies.
See also:
Gurukul days -- What was it like to be educated in a Gurukul at the turn of the century? Oral history on the education of Gadiyaram Ramakrishna Sharma of Andhra Pradesh
Brahmin Communities -- A comprehensive list of Brahmin communities of India documented for anthropological research purposes.

History of Education
Full text of Jyotsna Kamat's book documenting the tradition of education in Karnataka through the centuries; covers Buddhist, Jaina, Hindu, and Islamic educational systems.