An Online Exhibition of Historical Artifacts
© K.L.Kamat/Kamat's Potpourri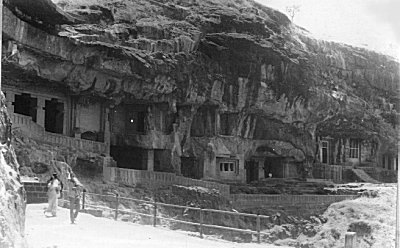 Three-storied Buddhist school in Ellora
It includes an assembly hall, and prayer rooms. It is believed that the assembly was held around a statue of Buddha. Inside the building, stone desks and benches can be found which confirm that it was an educational institution.
See also:
Sculpture of Sitting Lord Shiva, Caves of Ajanta and Ellora, The Lord of Kailash, Art and Architecture of Rashtrakutas, Three Storied Buddhist University, Sitting Lord Shiva, The Linga and its Cosmic Power

History of Education
Full text of Jyotsna Kamat's book documenting the tradition of education in Karnataka through the centuries; covers Buddhist, Jaina, Hindu, and Islamic educational systems.