An Online Exhibition of Historical Artifacts
© K.L.Kamat/Kamat's Potpourri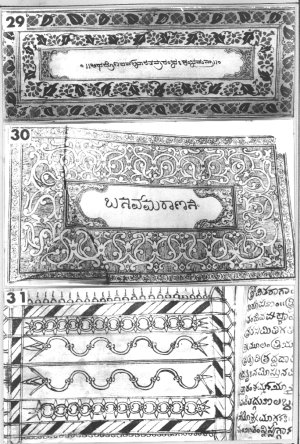 The Design and Decorations of Palm-leaf texts
The paper arrived in India around the 13th century. But the art and science of Palm-leaf texts has continued till this day.
See also:
Depiction of Lord Ganesh on a palm-leaf, Geometric Designs on Palm Leaf, A Painted Illustration from a Palm-leaf Manuscript, Geometrical Designs of Palm Leaf

History of Education
Full text of Jyotsna Kamat's book documenting the tradition of education in Karnataka through the centuries; covers Buddhist, Jaina, Hindu, and Islamic educational systems.