An Online Exhibition of Historical Artifacts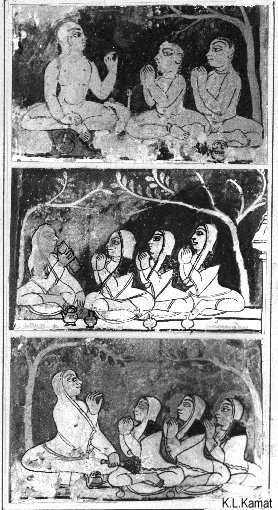 Education of Jain monks and Sanyasins
While the Buddhists hesitated in accepting bhikshunis (nuns) to the clergy (Sangha), Jains welcomed sanyaninis from the very beginning. At Tapogachha campus in Gujarat, the ladies were educated in many fields. They were especially trained to be teachers and messengers of philosophy. They participated in religious discussions and exchange of ideas which was inherent to the mode of education. The pictures above, taken from a Jain muth in Shravanabelagola, show education of Jain monks and nuns.

See Also:
Jain Education -- Chapter on Jain system of education from the book "Education in Karnataka through the ages" by Jyotsna Kamat

History of Education
Full text of Jyotsna Kamat's book documenting the tradition of education in Karnataka through the centuries; covers Buddhist, Jaina, Hindu, and Islamic educational systems.