Makara Sankranti or Pongal Festival
First Online: February 13, 2000
Page Last Updated: May 09, 2017
This holy day marks the commencement of the Sun's northern course in the Heavens, known as the Uttaraayana patha. This turn in the Sun's course takes place at the point of time when it enters the sign of Makara or Capricorn. Interestingly, this is the only festival in Hindu calendar that follows a solar calendar and is celebrated on the fourteenth of January every year (all other Hindu festivals are computed using the lunar calendar).
© K. L. Kamat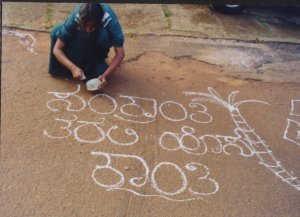 Wishing Happy Sankranti to neighbors and visitors
Sankranti is termed as Pongal in Tamilnadu, and is celebrated with a popular dish with the same name. Kolams (Rangoli) and prayers constitute the celebration of the festival. People buy new clothes, ornaments, sugarcane and sweet candy for the festival. The farmers worship their harvested crops and share with friends and relatives. Women and young girls wear new clothes, wear golden and silver ornaments, volunteer different flowers and visit their relatives and friends.
© K. L. Kamat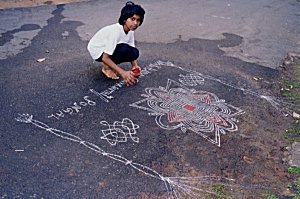 Girl Paints Kolam for Pongal
In different parts of India, the Sankranti is celebrated very differently. On the Western parts, the emphasis is on exchanging Til-Gul which is a specialty of Konkani/Marathi women. It is sugar coated seeds and nuts of different colors prepared by the housewives. In some other parts, exchange a mixture of teel, jaggery, fried gram, groundnuts (peanuts) which is called "Ellu Bella.". Along with sweets, flowers, bangles, dry fruits, sugarcane, sugar cadies are also exchanged. In the old Mysore region, people decorate their houses and cattle. They also worship their crop and cattle. As part of the celebration they sing and dance, and look forward for flowering of the trees and singing of birds.
In Hindu belief, a person dying on this auspicious day directly goes to the heaven. Bhishma, an elder in the epic of Mahabharata, is said to have waited for this day to breathe his last. It is also on this day every twelve years the Great Kumbh-Mela is held at Prayag.
See Also: