Thrissur Pooram Festival
by Vikas Kamat
First Online: April 01, 2006
Page Last Updated: January 04, 2018
The Thrissur Pooram festival is celebrated in the state of Kerala in summer, the most spectacular of the festival takes place at the temple of Vadakkunathan (Lord Shiva) near Trichur. Thirty richly and identically decorated elephants carrying ceremonial umbrellas and fanned by whisks are paraded to the temple, and the captain elephant is installed with the idol of Vadakkunathan. The elephants then go around accompanied by loud sounding of trumpets, pipers and crowds. The parade goes past midnight and concludes with a display of fireworks.
V.N. O'key/Kamat's Potpourri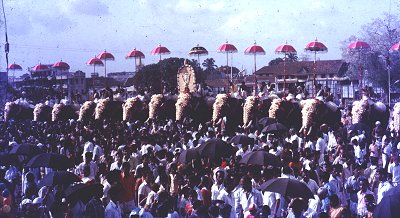 Pooram Festival Celebrations, Kerala


See Also:
Indian Elephants -- Section on the elephants of India explores their use in temples, as work-force, and their role in Indian society; includes a FAQ and a number of pictures.