Tulasi Festival
First Online: March 03, 2006
Page Last Updated: January 04, 2018
Tulasi Festival or Wedding of Tulasi
No Hindu weddings can take place in a year until a ritual wedding of Tulasi (a.k.a. Tulsi, sweet basil plant) is performed. The festival occurs about two weeks after the Deepavali festival.
The pot or the platform (also sometimes referred to as Tulasi) is decorated as a bride. Sugarcane and leaves of tamarind and mango are planted along with the Tulasi plant. Various dishes are offered to Lord Vishnu and ritual itself involves symbolic marrying of the plant with a rock (Saligrama, a symbol of Lord Vishnu).
In some parts of India they burn fire crackers and distribute sweets.
Vikas Kamat/Kamat's Potpourri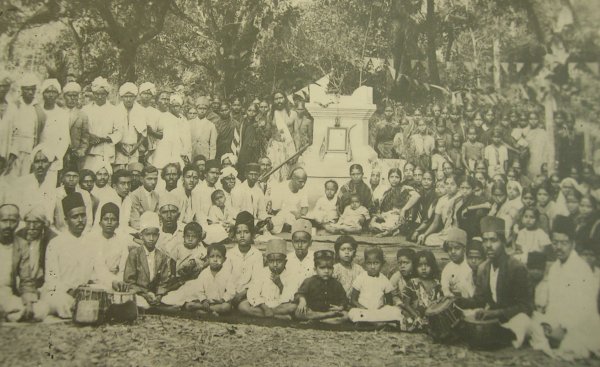 The Tulasi Festival
Marriage ceremony of the sacred plant Tulasi. The photograph from 1930s in Goa shows the assembly and the festivities

See Also: