Cradles in Indian Culture

by Dr. Jyotsna Kamat
First Online: April 22, 2011
Page Last Updated: May 09, 2017

"King Janaka"s daughter
tied a cradle in the jungle
Between the trees for Lav-Kush twins
swinging them smilingly."

--says a Kannada folksong. Princess Janaki, or King Janaka"s daughter, also known as Seetha, queen of Lord Rama, had to suffer endlessly, earlier or later when she was deserted. But once she gave birth to her twins, Lav and Kush, in the forest, she forgot all her worries, cradling them. In Indian Ethos, mother hood is a great blessing and a child is considered the image of God Almighty. Many children are called by pet name "dev" or "devi", or family deity, though their "cradle name" or registered name in the school is different.

K.L. Kamat/Kamat's Potpourri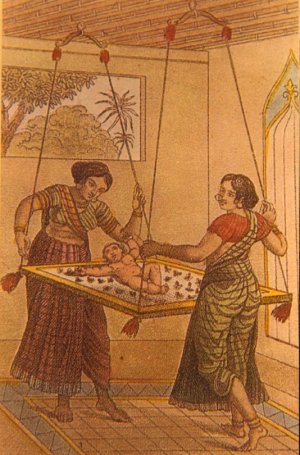 Women Entertaining an Infant
Detail from a 19th century illustration by Frederic Shoberl
Art of Indian Cradles
K.L. Kamat/Kamat's Potpourri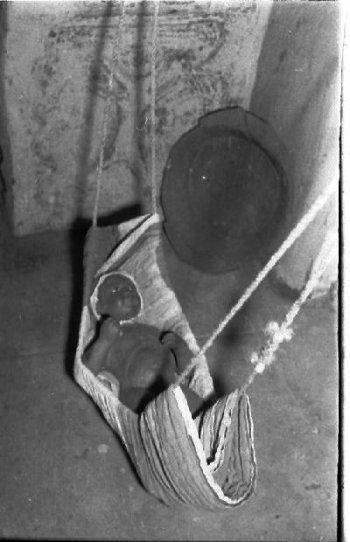 A Tree Bark Cradle
Artifact from Chindwara Tribal Museum
A cradle or two were essential part of kid furniture in a joint Hindu family where birth and death were common occurrences. Even now, in village homes, cradle for the babe is a safe place. A well-made cradle provides protection to infants from reptiles, scorpions, ants and other harmful creatures, which are common in forest village surroundings. A couple of swing to the babies after bath and feed with soft sung lullabies, made way for sweet slumber and free time to its mother to attend to countless chores.
K.L. Kamat/Kamat's Potpourri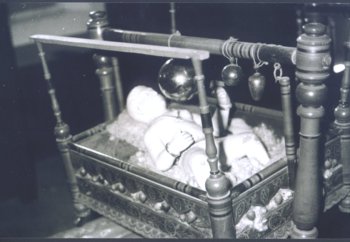 Cradle of Lord Krishna
Paratgali Museum Collection, Goa
Lullabies are a legion in all the Indian languages. These normally depict Yashoda"s love for child Krishna or Kousalya nursing Sri Rama. Singing the Lord"s glory and recollecting his childhood adventures were a favorite theme with great composers like Purandaradasa and other Haridasas, which were sung in every home in olden times. "Jo! Jo!" Rhymes reverberated alongwith creaking sound of cradle in the homes of rich and poor alike.
K.L. Kamat/Kamat's Potpourri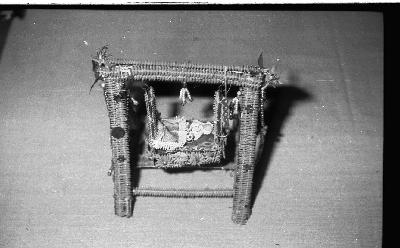 A Hand-made Bamboo Cradle
Artifact from Shashwati Women's Museum
Varieties of Indian Cradles
Cradles were made of metal, wood, bark, cotton strings, strong cloth or even a saree! The woes of a modern construction worker-mother are no less than mother Sita's in the forest. In modern cement concrete jungle, an infant has to be suckled hurriedly and put to sleep in an improvised saree-cradle and the mother, to hasten back to her back-breaking job of carrying bricks.
Vikas Kamat/Kamat's Potpourri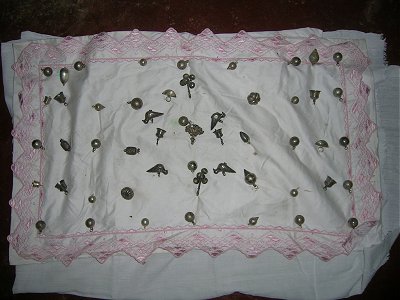 Cradle Decoratorations

Cradling Ceremony is an important ritual in a Hindu household. "Naming" ceremony also accompanies on the 12th day of the birth. If for health or some in-auspicious reasons, it is postponed, a suitable date is fixed. "Ear-boring ceremony" also follows. Special puja and prayers are offered as gesture of thanksgiving for safe delivery and health of mother and child. Elderly women and mothers of the locality gather to bless the newborn.
On this particular day, the cradle is decorated with flowers, jingle and very light home-made toys. Hand-painted cradles are in proud possession of some parents. A cotton-stringed cradle helped a mobile family. Elderly women, in the family or from those who gather, take part in cradling. First they bring around a stone usually from the Kitchen, wash it properly, wound a cloth and taking specific rounds of the cradle, put it in the cradle, remove and keep it aside. The stone was called "Gundappa".
Similarly the New born dressed in new finery, kohl, tilak etc is lifted and kept in the cradle after ceremonial waving and exchanging. It is a symbol of blessing, we are told, so that the newborn be as strong as the rock, to face shocks and calamities in later life. But in fact, it might be a way to ensure strength of the cradle to hold the baby with bedding, blanket and other accessories. (picture 3) There is singing and rejoicing. Sweets are distributed to one and all, and there is exchange of gifts. On the same occasion, a chosen name is given to child, which continues as a registered name later. The goldsmith is invited to make bores in the tender ears of the infant. A born Hindu was recognized only by the tiered pearced, which had later gold or precious stone-studs.
See Also: