Pictures of Vasco da Gama
Vasco da Gama was born about 1460 at Sines, Portugal at a time when Europeans were heavily investing in discovering a sea-route to India.
In the year 1497 Prince Manuel placed Vasco da Gama, who already had some reputation as a warrior and navigator, in charge of four vessels built especially for an expedition to India. They set sail July 8, 1497, rounded the Cape of Good Hope four months later, and reached Calicut (in present day Kerala) on May 20, 1498. His expedition turned the commerce of Europe from the Mediterranean cities to the India Coast, and opened up India to European enterprise, eventually even leading to the enslavement of Indians and colonization of India.
kamat.com/Kamat's Potpourri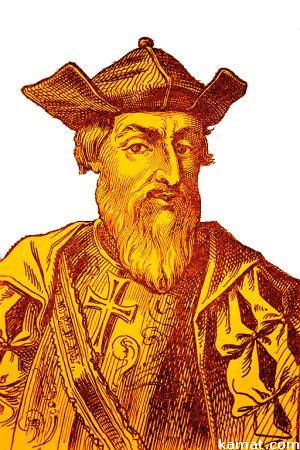 Portrait of Vasco-da-Gama
The Portuguese Navigator who found the sea route to India
Vikas Kamat/Kamat's Potpourri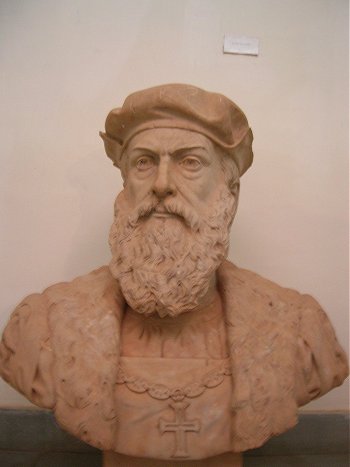 Bust of Vasco de Gama
Collection of State Government Museum, Goa
Vikas Kamat/Kamat's Potpourri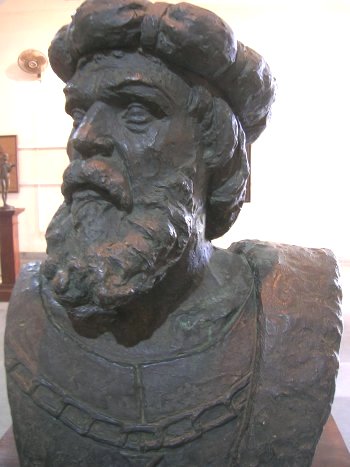 Bust of Vasco da Gama
Government Museum Collection, Panaji, Goa

See Also: