Embroidery Arts of India
First Online: September 01, 2004
Page Last Updated: May 09, 2017
Many of the embroidered arts of India takes its inspiration from nature, and the products of various regions reflect the colors of the flora and fauna of that area. Designs in Indian embroidery are formed on the basis of the texture and design of the fabric and the stitch. The dot and the alternate dot, the circle, the square, the triangle and permutations and combinations of these make up the design. Religious motifs such as gopurams, Tulsi plants and temple doorways are also equally popular. Every medium has been utilized in creating embroidery. Embroidery on leather, velvet, net and silks is found all over the country, and recently even raffia articles have come to be embroidered.
© K. L. Kamat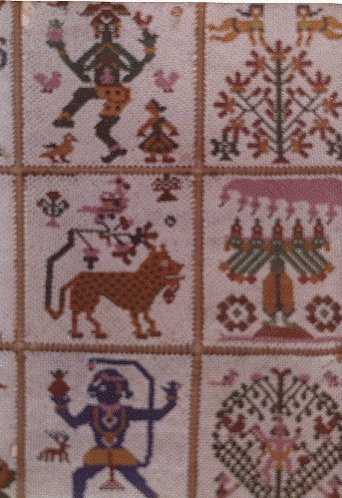 Elaborate embroidery on wool
Specimens of Kashmiri embroidery exhibit a riot of color and excellent workmanship. The designs are balanced and depict the flora and fauna of the area. The chenar leaf, the grape, the cherry and the plum, the almond and the apple blossoms, the lily, the lotus and saffron flower, along with the parrot and canary are all depicted in natural colors. The rumals of Chamba are worked in simple stitches depicting the Krishna-leela, the Räs (a type of dance performed by Lord Krishna and his Gopis), legends of ragas and raginis and other religious objects. The outlines are in dark silk, and the entire piece is done in ordinary running stitch, the gaps on both sides being filled in. Sindhi embroidery is influenced by Baluchistan and Punjab in its stitch, designs and colors, but it also makes lavish use of mica pieces attached to the cloth with button-hole stitches. Kutch embroidery uses mica pieces on a lavish scale but, unlike Sindh, which uses buttonhole stitches, embroidery from this area employs the chain-stitch as the basic stitch.
© K. L. Kamat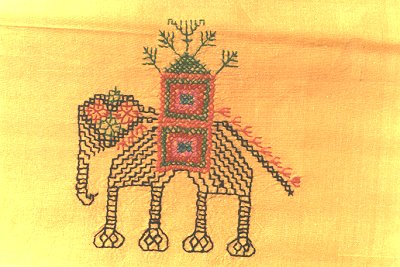 An Elephant in Silk Embroidery

Chikan or Chikankari embroidery is worked usually in white cotton or on a white base of muslin. It is similar to the linen embroidery of the western world. The centers of Chikan work are Lucknow in Uttar Pradesh and Gaya in Bihar. One specialty of Chikan is the "Jali," in which the effect of a netting is produced not by drawing out threads, but by making holes in the fabric and tightening the ends to give the cloth the appearance of a net.
The Kantha embroidery of West Bengal utilizes waste material. Pieces of cloth are sewn with simple running stitches, which run in several directions to form various motifs.

See Also:
Kasooti Embroidery -- Kasooti is an embroidery art-form from India, primarily undertaken by women
Painted Prayers -- Rangoli is a traditional art of decorating courtyards and walls of Indian houses, and places of worship