Hanuman: Hero. Monkey. God
© K. L. Kamat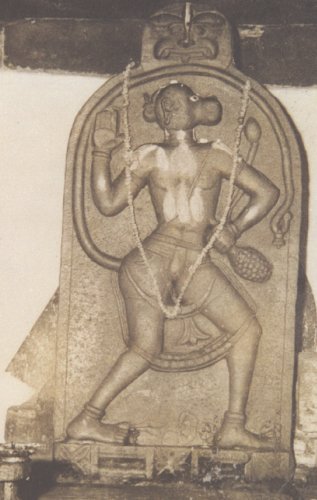 A Statue of Hanuman

Hanuman Watches Lanka Burn

Rama Fighting on the Sholders of Hanuman
Detail from a pavilion, Melkote

An Incomplete Sculpture of Hanuman
Remains of a school of scultpture (?), Sravanabelagola

Statue of Hanuman -- (Mukhyaprana)
Depiction of Hanuman as the controller of life

Anjaneya handing over Sita's Ornament at Ashoka Gardens
Mysore Traditional Painting, Mysore

Hanuman

Rama Sorrounded by Sita, Laxman and Hanuman
Tanjore School of Painting

Hanuman in Obeyance
Detail from a Mysore Traditional Painting, Nanjanagudu

The Tricking of Sita
Hoysala period sculpture shows Rawana's people showing two heads to Sita, claiming that Rama and Lakshman are dead.

When Hanuman became Old


Languor hanuman in Mysore zoo, 1985

Hanuman Encounters Sita in Ashokavana
Painting by Balasaheb Pant Pratinidhi

A Hanuman sculpture on top of Rama temple, Goa

Sculpture of Hanuman

hanuman

Man Dressed as Hanuman the Monkey


A Lamp Post near Hanuman Temple,

Hanuman Meets Rawana, Bhatkal Temple Sculpture
Notice the multiple faces of the king and Hanuman using his tail to make seat higher than the king

Nature Scene
Painting by artist N. Hanumantaih

Mythological Painting
From Left to Right: Garuda, Rama or Vishnu, Sita or Lakshmi and Hanuman

A man dressed as hanuman

Hanuman with gadha in street procession

Hanuman Meets Sita in Ashok Garden

Rama's Follower Hanuman
Depiction of Hanuman in Kavi Art

Hanuman, Laxman, and Jatayu attending to Rama
Bhatkal temple sculpture of 16th century A.D.