The Ordaining Ceremony
The Ordaining Ceremony

First Online: November 27, 2000
Page Last Updated: May 09, 2017
Initiation of young boys into the rituals of Brahmacharya (disciplined and controlled living) is an important occasion in some communities in India. Traditionally the boys belonging to the Brahmin caste left home to study in residential schools called Gurukuls. The occasion of boy leaving home for education is called Upanayanam (a.k.a. Upanayana or the half-marriage), Brahmopadesham (supreme teaching), or Munji and is marked by shaving of the head, overcoming of maternal love, and symbolic begging. The understudy, called Vatu is taught the Gayatri Mantram, the Sandhyavandana, and other Hindu rituals.
© K. L. Kamat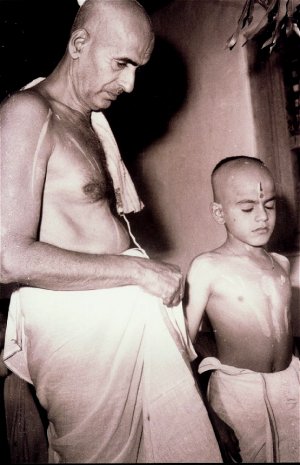 Walking into Monk hood
The typical ceremony begins with sisters bathing the Vatu, followed by the ladies of household giving a crash course in Gurukul survival. (such as teaching the Vatu how to pull water from the well, how to powder the grains). The Vatu's head is then ritually shaven off, and the barber honored for his contribution. The Vatu bathes again (this time by himself), and is decorated with kajal, and flowers. The family priest then initiates the Vatu into bachelorhood with the elders and Agni (the Fire God) as the witness.
The Vatu then goes begging for alms saying Bhavati Bhikshamdehi (or Bhavan Bhikshamdidhatu), when his request is honored by the guests with gifts.

See Also: