Roots of Hinduism
by Dr. Sushama Arur
First Online: June 07, 2003
Last Updated: May 09, 2017
Hinduism is a way of life, morphed over centuries, embracing various rites, rituals, customs traditions, thinking and philosophies. A careful study of Indian history reveals the continuity and development in one of the oldest religions of the world.

The Worship of Pashupati
The Lord of animals, surrounded by animals, with his trident was prevalent in Indus civilization. This is evident from the seals found in this region. Pashupati as is well known, is Lord Shiva, who is shown in the yogic position on the Indus seals. He is also associated with yoga, an Indian specialty which later developed into a science, philosophy and one of the means to reach God by the control of body and mind. This tradition of worship of Shiva, in the form of Pashupati and Rudra could be seen in the later Vedic period, probably almost three centuries later!. Indians continued the worship of Shiva in the later Vedic period. The worship of Linga, though looked down upon initially, became part and parcel of Hinduism.
Vikas Kamat/Kamat's Potpourri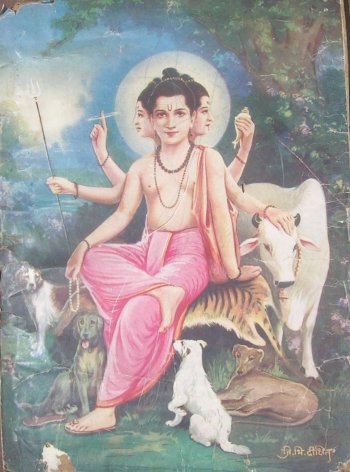 Three Headed Animal Lover Dattatreya
Painting shows Hindu deity surrounded by animals he loves

In the same way, some of the Indus scripts also testify the worship of the mother goddess. This tradition was carried over and became more prominent later in the Gupta period (4th century AD to 6th century AD) though, the worship of Ushas, Gayatri was popular in the Rig Vedic period. (1500 BC is considered to be the Rigvedic period) .
Adi Shankara (see Shankaracharya) wrote umpteen shlokas in praise of goddess in the 8th century which has become the integral part of worship in today's Hinduism.
Looking at the continuity, it is quite astonishing that a civilization so old (3200-1800BC), although perished physically, some of its traditions are being continued till today! Continuity should not be mistaken for stagnation, since throughout history there has been considerable changes as well as progress.

See Also:
Timeline of Hinduism -- Timeline of important periods in the development of Hindu philosophy, including important reformers, and movements.