A Tribute To G.B.Joshi
by Jyotsna Kamat
First Online: November 01, 2003
Page Last Updated: May 09, 2017
Govindacharya Bhimacharya Joshi (pen name: Jadabharata) is a legend in the Kannada publishing world. Seventy years ago, when Kannada readership in North Karnataka was scare and books (literary works) had hardly any market, Joshi started a publishing house, Manohara Grintha Mala (MGM) in Dharwad (1933). Stalwarts like D.R.Bendre, R.S.Mugali, V.K.Gokak, Betageri Krishnasharma (pen name: Anandakanda) actively supported him. They contributed their early works to MGM.
Joshi was the first or foremost publisher to recognize the potential of budding Kannada writers. U.R.Ananthmurthy, Girish Karnad, Srikrishna Alanahalli, Krishnanand Kamat, and scores of younger writers had their maiden works published by MGM, which became an important stepping stone in their careers.
© K. L. Kamat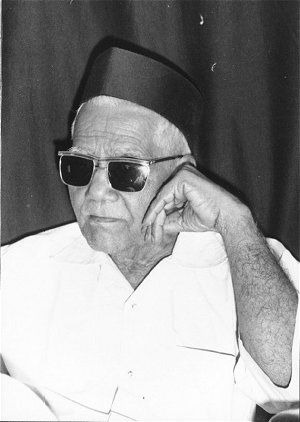 G.B.Joshi (1904-1993)
(See Also: G.B. Joshi Picture Album)
Publishing was both a passion and a mission with Joshi. With flair for experimentation, he brought out trendy novels, plays, poetry, essays, translations, literary criticism and collections of short stories. It was, and perhaps still is (year 2003), a dream of many writers to have at least one book of theirs, to be published by MGM.
MGM never was a prosperous or commercially successful venture. But Joshi had the prestigious honor of being declared the foremost Kannada publishing house. He tried to meet out expenditure by comparatively good number of subscribers (like a modern book club) -- some 2500 of them. He usually did not go in for reprint of a book, preferring to bring out a new one instead.
Born in a middle-class family at Honbal (Dharwad district), Joshi lost his father at the tender age of seven. With great difficulty, he could finish Intermediate (present day pre-university or XII grade) examination, and had to give up studies. Although Dharwad was a small city, it was culturally and politically very active. Joshi came under the influence of scholars and political stalwarts of the time, and rushed to publishing adventure.
Times were very hard (1930s and 1940s). The state of Karnataka had not come into existence yet. The province of Mysore, ruled by the Wodeyars, was comparatively prosperous, but had its own publishing houses -- some with royal patronage. Joshi had to carry, literally, his publications on his shoulders and undertake long journeys to the former districts of Nizam's Hyderabad, Madras and Bombay Presidencies (under the British rule), and Mysore kingdom, to sell his books. Many elderly book-lovers fondly remember purchasing books from this publisher-salesman directly, and the joys of reading those unique Kannada books.
Himself a prolific writer, Joshi has written several plays which were successfully staged over the years. Kadadida Niru ("Stirred-up Water"), Sattavara Neralu ("Shadow of the Dead"), Nane Bijjala ("I alone am the Emperor") are some of them. He was the founder of an amateur theater group, Kalopasaka Mandala, wherein he inducted his nephew Bhimsen Joshi into acting and singing, who later went on to climb great heights in Indian classical music.
G.B.Joshi brought to light more than a hundred new writers. He arranged for extempore plays, and published a novel "Kho!" of eleven chapters written by eleven different authors, a great experiment in Kannada language.
Of all the things Joshi has done, during his centennial year, this year, he is being gratefully remembered for the unique, and Herculean attempt of bringing out eight volumes of literary criticism of modern Kannada literature. Nadedu Banda Dari ("The Path Traversed") published in 1960 was a work in three parts. Important literary pieces, including poetry, plays, radio plays, short stories, novels, and essays written in the post-independence period were reviewed and analyzed, with some new contributions added.
PutaBangara (Golden Pages) published in 1983 in five volumes is an anthology of trend-setting literary works published by MGM over the five decades. Both anthologies contain excellent literary assessment by Prof. Keertinath Kurtkoti, who served as an advisor to Joshi.
Both Nadedu Banda Dari and PutaBangara form treasure trove of modern Kannada, and are reference books par excellence.
G.B.Joshi was honored with Padmashri, a high civilian honor in India. He was also recipient of many honors as a playwright, including honors from Rajya Nataka Academy and Central Sangeet Natak Academy.
G.B. Joshi died at the ripe age of 89, realizing his dream as a promoter and publisher of outstanding Kannada literature. His legacy is being carried on by his son Dr. Ramakant Joshi, and grandson Sameer Joshi. The offices of Manohara Grintha Mala can be visited in the city of Dharwad.

See Also: