Panje Mangesh Rao
by Jyotsna Kamat
First Online: July 01, 2004
Page Last Updated: May 09, 2017
After 93 years of it's composition, Panje's Nagarhave! (Snake! Oh Snake) continues to regale millions of kids in Kannada primary class. Huttari-hadu (song of harvest) has attained the glory of national song of Kodava community and Tenkanagaliyata (Ode to southern Wind) is so picturesque with tilting alliteration, that anybody who reads feels to dance and sing, just like people feeling at the onset of monsoon. Panje Mangesh Rao, creator of these classical poems was a pioneer, who set a new trend in Kannada writing, one hundred years ago. He is considered father of modern Kannada short story, essay-form and children's songs.
© K. L. Kamat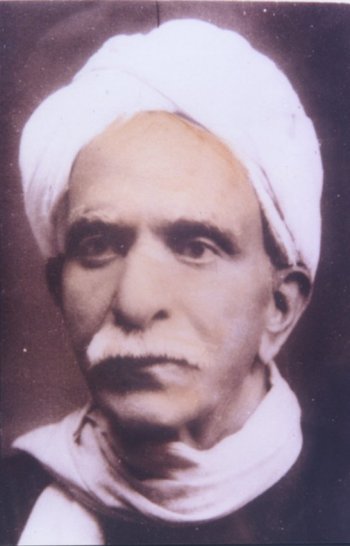 Panje Mangesh Rao (1874-1937)
Panje is a small village in South Kanara district. Mangesh Rao's ancestors were from Panje and settled down in Bantwal, a small but culturally active town, which produced a good number of intellectuals at that time. Mangesh Rao was born on 22nd February 1874 of Ramappayya and Seethamma. They were Saraswat Brahmins. Ramappayya was a Sanskrit scholar and a priest, who lost all his inherited property in a court-case. He died early, adding to the woes of Seethamma, who brought up her six children with great care and tenderness in spite of poverty. The pristine beauty of Bantwal with flowing Netravati river, coconut palms, jackfruit, mango, tamarind and cashew trees, rich green fields, kindled the imagination of young Mangesh from childhood.
He was a born poet. From a tender age, he was used to composing songs in Konkani and Kannada, extempore. He entertained his family members, neighbors and villagers who marveled at his soft, melodious voice rendering self composed poems with action.
Konkani, had remained or survived as spoken language only, for generations. Whatever Panje composed or recited in Konkani has disappeared. But whatever he wrote in Kannada is termed landmark.
After finishing primary schooling, in Bantwal, he had to go to Mangalore, where the high school education was available. It was difficult to meet the expenses. He managed somehow, ingeniously. He had two meals at one relative's place and lodging at another's residence. He economized on paper by using the same page, a second time by using it upside down, writing between the lines! He borrowed text books from friends and classmates. His prodigious memory helped to remember, record and reproduce whatever he learnt and observed.
His proficiency in Kannada brought him a Kannada translator's job, even before he completed graduation on twenty rupees-a-month-salary. Being needy he accepted. He was already married and had to cater to family requirements. Later he completed B.A. degree and Teacher's diploma as well. He was appointed Inspector of schools.
With this assignment he came face to face with the wretched condition of schools and primary school teachers. Even with his low salary he contributed to welfare schemes, some started by himself. He instilled love of learning among teachers and he taught by introducing new teaching techniques. His compassionate and helpful nature earned him innumerable admirers wherever he went. He had to go on foot or in bullock-cart for inspection, accompanied by a cook and servant. In the long run these two became his life-long companions, remembering and reciting many poems, he composed and sang on the way!
He continued writing. These included stories, poems, nursery rhymes, song-stories besides patriotic poems and songs of general interest. He wrote first detective novel in Kannada; he revived Tulu and Kannada folktales; wrote books on teaching methods, grammar, etymology, geography, besides works on historical and literary research.
Present day Karnataka was divided into five administrative divisions in Panje's time. But it was his writings that created cultural unity. He was elected President of All India Kannada Conference held at Raichur (1934) then under Nizam of Hyderabad's rule.
He died of Pneumonia in 1937 at the age of sixty-three. Distinguished littérateurs like Masti Venkatesh Iyengar, Shivaram Karanth, Pai and Kuvempu have paid rich tribute in moving terms.
Married at the age of twenty, Girijabai was a perfect mate for Mangesh Rao. She and all his five children took active interest in his literary pursuits and inherited his love of music.

See Also: